Olbrych scores two; Lakeview rolls in shutout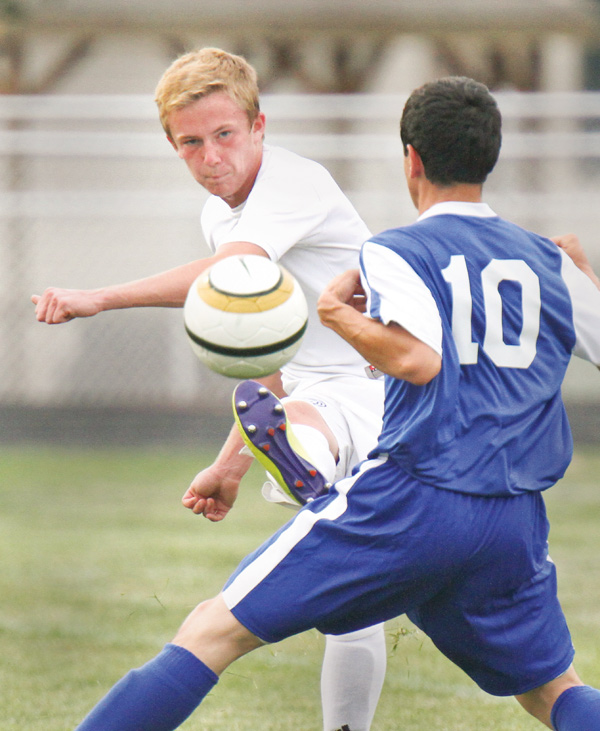 ---
By Tim Cleveland
sports @vindy.com
CORTLAND
In its second game of the 2013 season, the Lakeview boys soccer team gave its fans a glimpse of what could be possible this season as the Bulldogs go for a third consecutive Division II district championship.
Wednesday, Lakeview rolled to a 5-0 victory over Hubbard at Don Richards Field and while the victory was dominant, the home team had enough good scoring opportunities to double its scoring output.
"We've been preaching about getting some production from our outside midfielders and our midfielders in general," Bulldogs coach Nate Mailach said. "We've been struggling to score goals.
"We had a lot of opportunities to score. We had the ball in our half the majority of the game. These balls that are rolling in the box, we've got to get on the end of those.
"Making these mistakes in August is fine, but I told these guys at halftime, last year's team would've finished that game off 8 or 9 to nothing. We lack the killer instinct right now to put teams away."
The Eagles' defense held up relatively well for the majority of the first half, but once Lakeview (1-0-1) broke through, Hubbard had no answer.
Austin Olbrych beat the defense and fed the ball across the goal mouth where Ryan Mendonca was there to easily tap the ball past diving Hubbard (0-1) goalkeeper David Krok at 17:44.
"Our whole game is all about movement and possession," Hubbard coach Cory Reinard said. "They're quick. They're quick to the ball; they transition up the field. Very athletic players. They definitely won the game."
The Bulldogs added two more goals before the end of the first half. Matt Pasternak took a corner and after a scramble, Anthony Sember headed the ball in with 8:24 left in the half.
Not content, Lakeview's Evan Olbrych was brought down in the box and Colton Ainsley converted the ensuing penalty kick at 2:43.
After an injury during the summer, it was Ainsley's first goal of the season after scoring 39 in 2012.
"His presence tonight really let everybody relax," Mailach said of his senior. "His presence alone out on the field really helped us out tonight; just calmed us down and other guys were able to produce."
Lakeview converted a strange goal early in the second half to extend its advantage, as Eric Rohrabaugh worked his way into the box. Hubbard's defense seemingly came to a stop and Rohrabaugh took advantage to make the score 4-0 with 34:17 to play.
Austin Olbrych tacked on one more goal at 17:08 with a header against Krok, who was forced to make 17 saves in the game.