---
Wednesday, August 21, 2013
VTR - Police Chiefs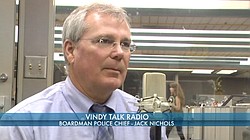 Video Set
Vindy Talk Radio will be live at 8 a.m. with Louie Free.
Special guests today will include an 11 a.m. visit from Austintown Police Chief Bob Gavalier and Boardman Police Chief Jack Nichols. They'll be tackling a wealth of issues in their respective communities— including how they're dealing with growth in commercial development and suburban crime. Discussions about the Racino in Austintown and congestion on 224 in Boardman/Poland will also be on the agenda.
Go to vindy.com/radio to listen to the show live, or vindy.com/mobile/vindy-radio to listen from your smartphone.
Click here to listen to the show.
Vindy Talk Radio Studio: 330-333-4454