Stock market's chilly August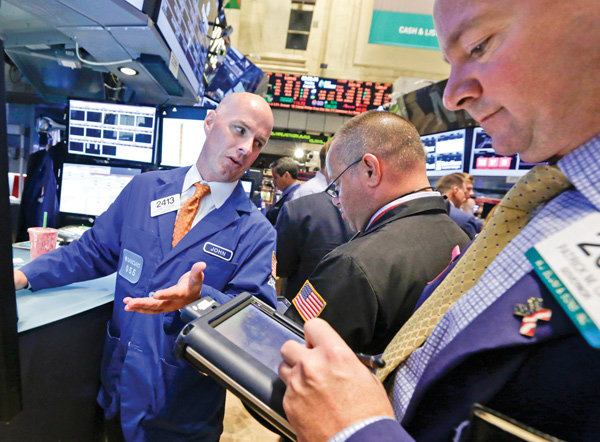 ---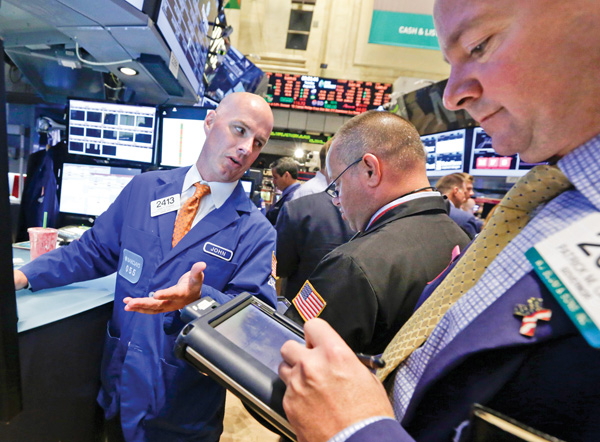 Photo
Specialist John O'Hara, left, works with traders at his post on the floor of the New York Stock Exchange. On Tuesday, the Dow Jones industrial average posted its fifth-straight day of losses, the first time that's happened this year.
Associated Press
NEW YORK
It's been a chilly August for the stock market.
At the start of the month, the Dow Jones industrial average and Standard & Poor's 500 index hit all-time highs. Now the market is down 4 percent from its peak, and August is on track to be the Dow's worst month since May 2012.
On Tuesday, the Dow posted in its fifth-straight day of losses, the first time that's happened this year. While the S&P 500 and Nasdaq composite index did rise modestly, it was first time in four days those indices have seen green.
The stock market slide in the last couple of weeks reflects a shift in investor strategy that began in the bond market and spilled into stocks. The spillover then mixed with lingering concerns about the U.S. economy, leading to the last several weeks of volatility, market observers say.
"The bond market is the catalyst for this selloff," says Quincy Krosby, market strategist with Prudential Financial.
While most of the selloff occurred in the last couple weeks, it had its origins months ago.
Up until early June, bond funds had been one of Wall Street's more-popular investments — particularly among average investors. More than $1.2 trillion was socked away into bond mutual funds and bond exchange-traded funds between 2009 and 2012, according to TrimTabs.
That was before Federal Reserve Chairman Ben Bernanke said the central bank could pull back on its $85 billion-a-month bond-purchase program, which was designed to keep bond yields low.
Bernanke made bond investors nervous in mid-June by saying that the Fed, one of the bond market's biggest customers in the last several years, may scale back its buying. Investors pulled more than $65.8 billion out of bond funds in June, according to mutual fund research firm Lipper, the largest amount ever on a cash basis and the second largest outflow in percentage terms since the financial crisis in 2008.
This exodus out of bond funds has touched the stock market in two ways, investors say, starting with dividend-paying stocks.
Shares in industries such as utilities, pharmaceuticals and telecommunications are often purchased because they provide a higher-than-normal dividend. As Treasury yields rise, it makes all dividend-paying stocks less attractive to investors. That's because Treasuries can provide a similar return with significantly less risk.