---
Wednesday, August 21, 2013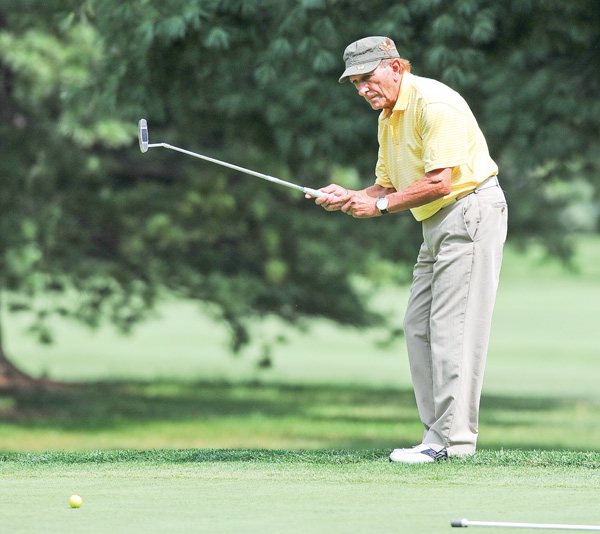 Photo
Pierre Angelilli of Youngstown encourages his ball to break toward the hole on No. 12 Tuesday afternoon at the Trumbull Country club. Angelilli finished with an opening-round 91.
By RYAN BUCK
rbuck@vindy.com
WARREN
Tim Porter is the patriarch of one of the Mahoning Valley's prominent golfing families.
His sons, Scott and Michael, followed in their father's footsteps as two of the finest local golfers. The sons perenially haunt the leaderboard at The Vindicator's Greatest Golfer of the Valley, presented by Farmers National Bank, in the Men's Open Division.
It seemed only natural that their father join them in the area's premier golfing event.
It was not until Tuesday at Trumbull Country Club, however, that the Canfield resident rewarded his sons' repeated requests and made his first appearance.
But it was a grand one.
"They were trying to talk me into playing in the Men's Open division," said Porter, who took the first round lead in the Seniors division with a strong opening 76. "I'm a little bit more comfortable with the older guys."
Aside from double bogeys on holes 1 and 18, Porter was nearly flawless.
"Everything in between went well," he said. "I really enjoyed the golf course. It was immaculate.
"I started with a double bogey on the first hole and it was like catch-up after that."
Having started his round on Trumbull's number 10 hole, Porter birdied the par-4 number 18 to finish with a front-nine 38. He matched that on the front to take a four-shot lead on Tom Korner and five shots on Robert Leonard.
In the Super Seniors division, three-time defending champion Ed Antonelli and Donald Sicafuse share the first round lead with matching 79s.
Thomas Kinkela, who shot 80, Bob Lidle, Dominic Vechiarelli and George Repasky are close behind.
After a near disastrous blow to his round, Repasky, of Boardman, needed a calming influence to turn around his day.
On the par-five 402-yard 15th hole, Repasky struggled his way to an 8. On 16, he made double bogey.
Thoughts of home helped him recover.
"It's not easy to do," said Repasky with a wry smile. "My wife would tell me, 'Just hang in there and have fun,' and that's what's in your head."
Still, Repasky knows he might be atop the leaderboard if not for that.
"If I wouldn't have had that one hole, I would have been in the 30s and I'd have been in the 70s, or even 75."
He birdied number 17 and deftly navigated the unforgiving greens that were only intensified with the sun looming throughout the afternoon.
Most of the players agreed they are what define the difficulty and mystique of Trumbull, a traditionally shorter layout.
"They were a little quick for me," Repasky said. "The courses we're playing are a little slower than these greens.
"Another thing I noticed is that you almost have to bounce the ball in because the ground is really hard. If you have a 130-yard shot, you hit your nine-iron 120 and let it roll up. Don't hit to the green because you'll go."
The Seniors and Super Seniors division will return to action Friday, where they join the rest of the divisions, playing their opening rounds, at Mill Creek Golf Course.
More than 300 area players will be on the course.
After cuts are made, Seniors (60+) and Super Seniors (70+) will decide their division crowns Saturday afternoon at The Lake Club.
Trumbull, Tippecanoe Country Club, Youngstown Country Club and first-time host Oak Tree Country Club will all see action this weekend.
For all Greatest Golfer coverage, see The Vindicator in print and online at vindy.com/golf.