New YSU students prepare for first day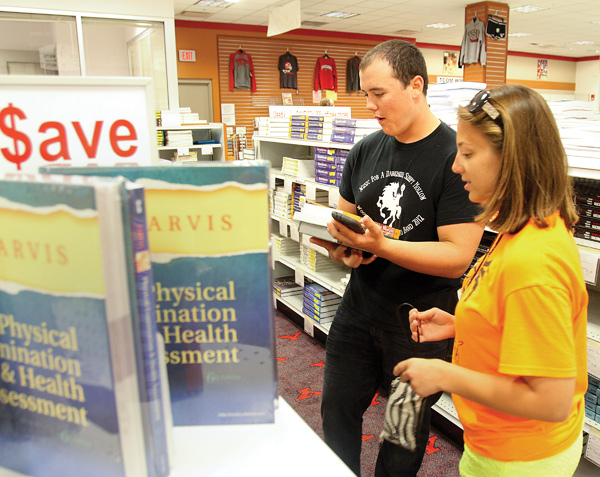 ---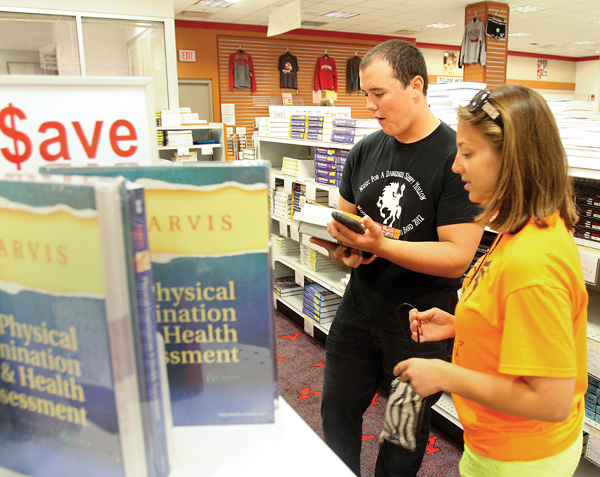 Photo
Kevin Casey of New Jersey and Alana Lesnanski of Boardman shop for textbooks Tuesday at the Youngstown State University Bookstore. Classes begin today .
By Denise Dick
Youngstown
Incoming Youngstown State University freshman Nick Cocca of Austintown is looking forward to taking classes in his major as he studies to become a teacher.
Cocca was one of the new and returning students milling about campus Tuesday preparing for the start of classes today.
He said the late Ken Reel, a history teacher at Canfield Village Middle School who died in June, inspired him to want to be a teacher, a career he decided upon in eighth grade.
"I've pretty much always wanted to be a teacher," said Cocca, an education major.
On Tuesday, he was checking out the YSU campus, making sure he knew where his classes were. He'd been to campus about a half-dozen times before Tuesday and felt pretty comfortable with the layout of the buildings. He just wanted to familiarize himself with the location of individual classrooms.
Nicholas Ghiates of Hermitage, Pa., enlisted the help of his mother and stepfather, Lisa and Gregg Sanford, to plan the fastest routes between buildings so he wouldn't be late for any classes.
"My friend works here and she told me it might take longer to get from Lincoln to DeBartolo," Lisa Sanford said.
Ghiates, a mechanical engineering major and Hickory High School graduate, said the campus map helped him get acquainted with the location of campus buildings.
He chose YSU because it's close to home, because of the "bang for the buck and they have a great engineering program. They're well-known for that."
Ghiates says he's hoping for general success at YSU. "I don't want to suck at college," he said.
Dylan Dean of Ashtabula is studying law enforcement. The incoming freshman picked up his parking pass Tuesday and was in Kilcawley Center, looking for his student mentor.
He rented an Austintown apartment and plans to commute to campus each day, carrying 18 credit hours the first semester.
One reason he decided to attend YSU is its proximity to home, but he also likes the campus.
"It's a nice campus with lots of nice people," Dean said.