Canfield girls soccer tops Boardman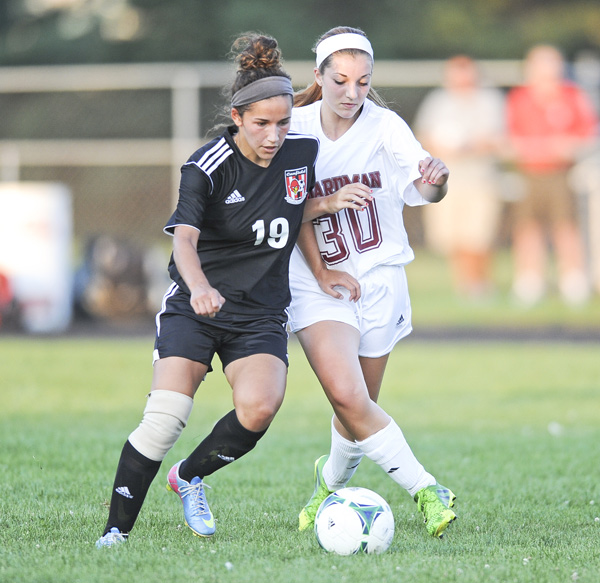 ---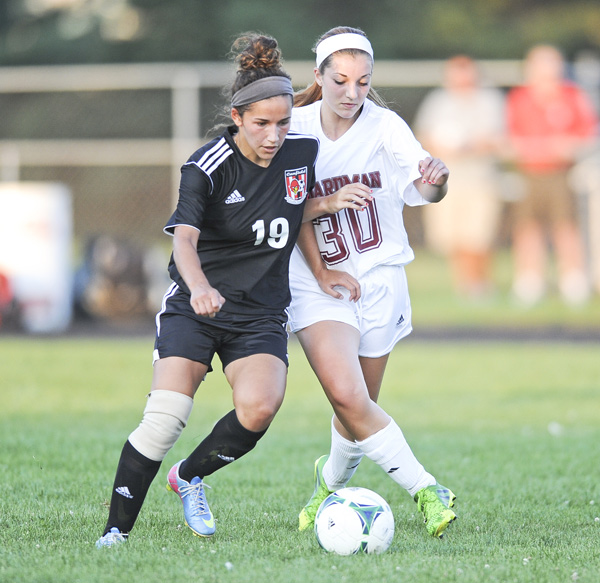 Photo
Canfield's Paige Bidinotto, left, and Boardman's Megan O'Neil battle for a ball toward midfield during the first half of Monday's game at Boardman High.
By TIM CLEVELAND
BOARDMAN
After losing a tough 4-0 decision to Canfield last season, the Boardman girls soccer team had high hopes of gaining revenge Monday night. After tying the game 1-1 in the second half, the Spartans looked like they had the momentum in their favor and would pull off the upset.
However, the Cardinals showed why they are one of the top girls programs in the area, scoring three goals in a 15-minute span to pull away for a 4-1 victory.
"We were a little sluggish in the first half, a little unorganized," Canfield coach Phil Simone said. "I've seen us in the preseason play a lot better. I don't know if that's because the field's a little narrower or we're used to playing on turf a little bit more. Our work ethic wasn't very good in the first half. They picked it up a little bit the second half. They started figuring some things out and got closer to where we want to be."
Boardman coach Fawzi Mujahed said that while the loss was disappointing, he felt things can be turned around just like last season.
"It's early in the season, and I think we will get the experience," he said. "It's like last year. We got the same situation. We lost to Fitch 4-2, then we come back to beat them 5-1 in the playoff."
Trailing 1-0, Boardman's junior striker Alison Green went on run after run in an effort to tie the game. She succeeded with 29:57 to play as she took a shot from the left that beat diving Canfield goalkeeper Victoria Villano. It was Green's fifth goal of the young season after scoring 24 last year.
"This girl is a junior this year," Mujahed said. "She used to play defense. I used her last year in midfield and this season. After that I see the potential she has. She has great footskills and she can finish."
Simone said a defensive breakdown led to the goal.
"We didn't get back. They counter-attacked us," he said. "We didn't get numbers back. Both outside defenders left our two center-backs by themselves and they caught us flat."
The Spartans (1-1) tried to press their advantage in an effort to take the lead, but Canfield's defense refused to budge.
With their backs against the wall, the Cardinals came back to crush Boardman's hopes of winning, as Sophia Mancini beat the Spartans' defense for what proved to be the game winner with 19:49 remaining. Boardman seemingly wilted after that, as Paige Bidinotto added a pair of goals at 5:09 and 4:51 to seal the victory.
In 2012, Canfield (1-0) advanced to the Division II regional final before losing to Walsh Jesuit. Simone feels that while his team can do even better this season, improvements need to be made.
"Sky's the limit. It's all up to them, how hard they work, how healthy we stay," he said. "There's always a little luck involved. We have a chance of doing something special, but we're not quite there yet."