YSU's Dunn lays out plans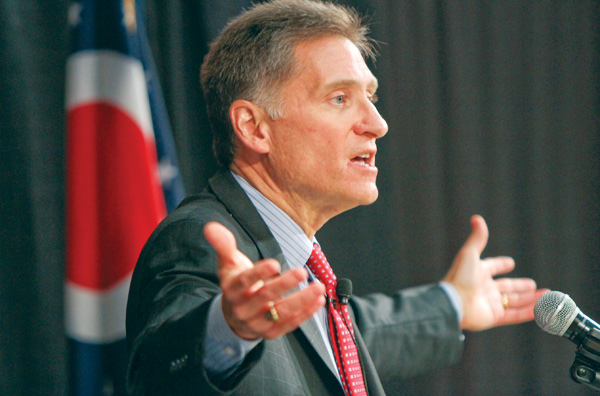 ---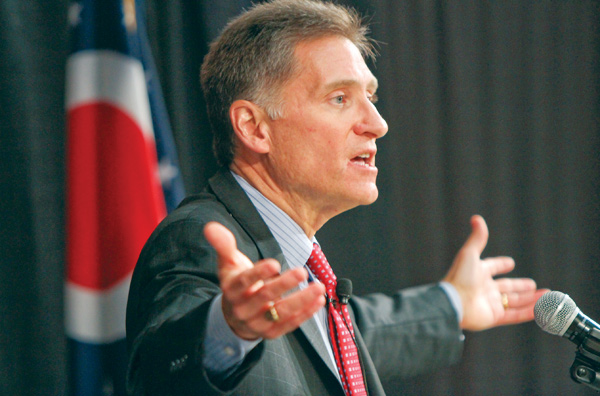 Photo
Randy Dunn, Youngstown State University's eighth president, delivers his first State of the University address Monday morning, saying the university is hopeful though it ended last year with a deficit and enrollment is dropping. He came on board in July.
By Denise Dick
Youngstown
Youngstown State University finished the last fiscal year with a $1.9 million deficit and expects a third-consecutive enrollment drop this fall, but Randy Dunn, the university's eighth president, characterized the state of YSU's future as hopeful.
Dunn delivered his first State of the University address Monday morning to a packed Chestnut Room in Kilcawley Center.
"The state of the university is challenging today but hopeful for the future," he said.
State universities used to receive 75 percent of their funding from the state and 25 percent from tuition. Now those numbers have flipped, and the funding model is changing to tie funding to graduation rate.
Though YSU planned for a 1 percent enrollment dip this fall, the number is going to be higher than that, Dunn said.
Each 1 percent drop equals about $1 million lost.
YSU has seen enrollment fall the past two years, a couple of years after near-record numbers. Fall 2012 enrollment dropped 5 percent to 13,813, compared with fall 2011's 14,540.
The number of students enrolled also dipped the previous year from 15,194 in fall 2010 to 14,540 in fall 2011.
Fall 2013 enrollment numbers won't be known until the 14th day of classes. Classes start Wednesday.
Dunn said department heads are developing plans to deal with smaller budgets, but the university isn't talking about specific cuts until the enrollment numbers are finalized.
"We're going to try to make it not in people," Dunn said of expected reductions.
YSU has to look at different areas from which to recruit and different ways to market to try to increase enrollment.
Traditionally, YSU's graduation rate has been in the lower portion of the state's 14 public universities.
"The open access definition does create that challenge," he said. "It's time for us to start defining what open access means. Open access doesn't mean open enrollment."
Open access means you provide students with strong student advisement — some may be referred to Eastern Gateway Community College for some courses with the hope they return to YSU, he said.
It doesn't mean the university accepts every student that comes through the door, he said.
Dunn, who began as YSU president July 15, said he wants YSU to be not just a place students come to take classes but a destination.
Besides enrollment, he also wants to focus on engagement and excellence during his tenure.
He wants the university to cultivate "rich, meaningful and deep partnerships" with institutions, companies and organizations. Those types of partnerships will help YSU leverage resources, build power and influence the right people.
The university's excellence must be touted.
"People are attracted to quality," Dunn said.