Seniors get ready to open event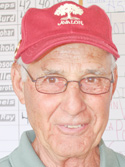 ---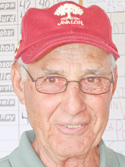 Photo
Greatest Golfer
By Ryan Buck
WARREN
For many years, the Mahoning and Shenango valleys were left without what formerly was a tradition in the sports-crazed region of America.
Sometime after the mills closed and many jobs left, so too did the bigger local golf tournaments.
For two decades, Ed Antonelli, a Warren native and lifelong golfer, longed for more competition outside of rounds with his friends at his home course at Avalon Lakes.
At 51, he won the Ohio Senior Public Links Championship.
He and the rest of the local golf community were thrilled when The Vindicator's Greatest Golfer of the Valley, presented by Farmers National Bank came to fruition in 2010.
"It's different than playing with your buddies," Antonelli said. "There's no comfort zone."
For a man who had played in several professional tournaments after his college career at Youngstown State University and even followed Arnold Palmer through a U.S. Open sectional qualifier, the event was perfect.
"A lot of us were used to playing in tournaments years ago," said Antonelli, who retired from Delphi Packard 16 years ago.
"There haven't been any around for quite a while. It was very enticing."
Through the first three years of the tournament, Antonelli, 75, has made the tournament his own personal playground.
He has captured the Super Seniors division title every year and returns for another run at it on Tuesday.
"I have no expectations of winning a fourth," he said. "I haven't played well this year, but I still want to play in it."
On top of the spirited competition, players will see at least two of the best golf courses in the area.
"That's what's tough," Antonelli said of the course selections.
"You don't know any of the little intricacies of the greens and the golf course. When you only play them once a year, you don't have any knowledge of them and it takes away a few shots. That's what makes this tournament so exciting."
The Men's Seniors (Age 60+) and Super Seniors (Age 70+) will open this year's Greatest Golfer tournament with first round play at Trumbull Country Club on Tuesday.
The event will mark the first time in the tournament's history that divisions will tee off on separate days.
Day two takes place Friday before the final round Saturday at The Lake Club.
The rest of the field will play Friday through Sunday, first at Mill Creek. The second rounds will be on four area courses. The finals are once again at The Lake Club.
The Miller 64 Greatest Scramble Challenge tees off today at 1 p.m. at The Lake Club with tournament host and PGA pro Jason Kokrak.
For all tournament coverage, see The Vindicator in print and online this week.