Shaker Woods Festival offers great variety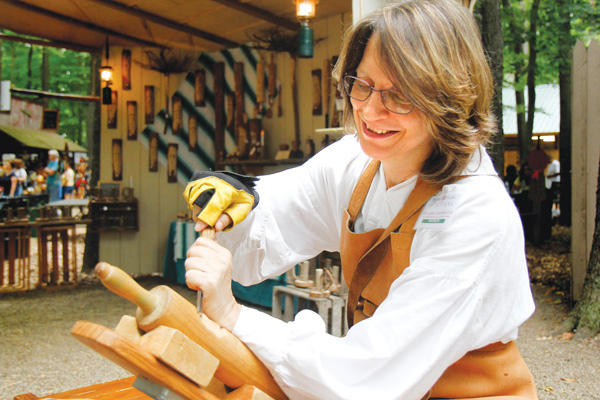 ---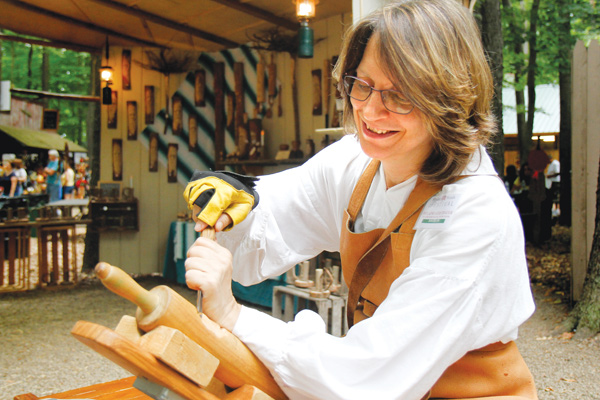 Photo
Delaine Gerstbauer of Bloomington, Ind., carves a face into a rolling pin Sunday during the Shaker Woods Festival in Columbiana.
COLUMBIANA
You can smell the exhibits at the Shaker Woods Festival long before getting close enough to see the crafts and food.
The site is an interesting way to get dinner and a show as nearly every booth has demonstrations of what is being made.
This year's festival, which continues next weekend, includes more than 200 craft booths and more than 20 food booths in the event's 31st year. The craft booths have woodwork, leather, metal, iron works, paintings, clothing and many other items.
The turnout this year has been one of the largest — if not the largest — attendance in the event's history, said Lana Tipton, who this year took over running the festival for her parents. Sunday afternoon about an hour before the festival closed for the weekend the paths between the booths remained stacked with people.
"This year the weather has just been beautiful," she said.
Saturday had a very large crowd, and a number of vendors sold out or nearly sold out, Tipton said.
Most of the crafters have been coming to Shaker Woods for years and credit Clifton and her family as the reason why.
"They put on a great event. I talk to other crafters, and they all say the same thing," said Brett Shroyer of Mercer, Pa., who carves carousel horses.
Delaine Gerstbauer, a wood and stone sculptor from Bloomington, Ind., has been coming to Shaker Woods for 20 years.
"I'm about as far from home as I get," she said.
During her work at the festival, Gerstbauer carves shapes into rolling pins and other wood into shapes using hand carving tools.
"I get all the joy of working with wood without having to listen to any power tools," she said.
One of this year's new participants was jewelry maker Craig Quatman of McKees Rocks, Pa. Quatman designed the necklace worn by one of the characters on the CBS show "Two Broke Girls."
"I've been hearing about this show for several years," he said. His booth has been busy throughout the event, he said.
Bob Wiggins is in his last year at the festival, training his replacement Rich Evans to take over as broom maker at Straw Mountain Brooms in Unicoi, Tenn. Wiggins said his booth has been so busy this year he's nearly sold out, and that's while completing about one broom an hour as part of his demonstration.
Not every crafter at the festival's work is typical; one of the more unusual artists is Sue Perry Rufus of Springfield, Pa., who makes art using feathers that she paints and uses as backgrounds.
"I like to consider myself an originator," she said.
The festival has a long history and has grown considerably over the years.
"The festival started as a little apple butter festival. Then one of the crafters asked about doing something in the woods," Tipton said.
The event moved to the nearby woods where the family built 15 to 20 craft booths and another 40 operated out of tents, she said.
Now the more than 200 crafters have built their own booths, and most things are either handcrafted on site or the artisans who made them explain the process, Tipton said.