Cutting CB easy call for Wolford
---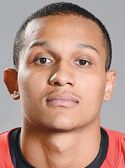 Photo
On the surface, Youngstown State coach Eric Wolford faces one of the bigger decisions of his tenure following this week's arrest of his starting cornerback, Dale Peterman.
Truth is, it's an easy decision.
Peterman, who has already been suspended indefinitely by Wolford, was arraigned Tuesday on a 2012 warrant for marijuana possession and traffic citations and a 2013 warrant for other traffic citations.
Both times, he was released on a personal recognizance bond, then failed to show up for his court dates.
This is not a new problem: In 2010, he was picked up at the Mahoning County jail on a warrant from Liberty accusing him of failure to appear in court.
Now, neither of the traffic stops was worthy of a federal case.
The first involved marijuana possession (while disappointing, he's certainly not the first college student caught with that), speeding, driving under suspension and driving without a seat belt.
The second was due to driving under suspension, failing to display proper registration information and not using a proper child restraint.
Both these issues came after an earlier run-in with the cops in February 2012 when he was summoned for obstructing official business.
Had Peterman shown up to court, paid his fines and apologized, he'd still be a Penguin.
But when you combine those issues, along with his well-documented academic problems — he lost a scholarship to Syracuse coming out of Ursuline High school then attended two different junior colleges and still had to sit out a year before he qualified academically for YSU's football team — you've got a problem.
Wolford wisely said he'd wait until the legal process plays out before taking action — Peterman's court dates are Aug. 27 and Aug. 28 — and since Peterman was already expected to miss at least the first two games with a knee injury, there's no need for him to rush his decision.
But if Wolford's claim that he was unaware of Peterman's earlier charges is true, then that decision should be fairly easy. He should kick him off the team.
I've covered Peterman since high school and I like him.
He's obviously guilty of making some poor choices but I don't think he's the second coming of former Patriots tight end Aaron Hernandez.
But playing football is a privilege, particularly when you're getting a scholarship.
And playing a high-profile sport on a high-profile program (at least in Youngstown) comes with certain responsibilities, something Wolford acknowledged this week.
"Athletes are in that fishbowl. That's part of it," Wolford said.
"You have to accept responsibility for being in that fishbowl, whether you're a coach or a player. That's part of being in the arena."
Before his knee injury, I thought Peterman was poised for a big season — so much so, I voted him first team all-Missouri Valley Football Conference on my preseason poll.
Losing him would be a big loss.
Players deserve a second chance, but they don't deserve a fifth or sixth one.
If Peterman is going to resume his football career, it shouldn't be here.
It's time for Wolford — and Youngstown State — to move on.
Joe Scalzo covers Youngstown State athletics for The Vindicator. Write to him at scalzo@vindy.com and follow him on Twitter @JoeScalzo1.