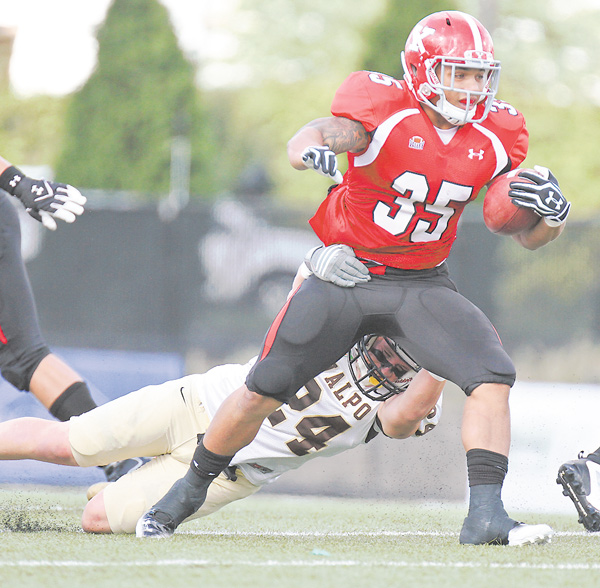 ---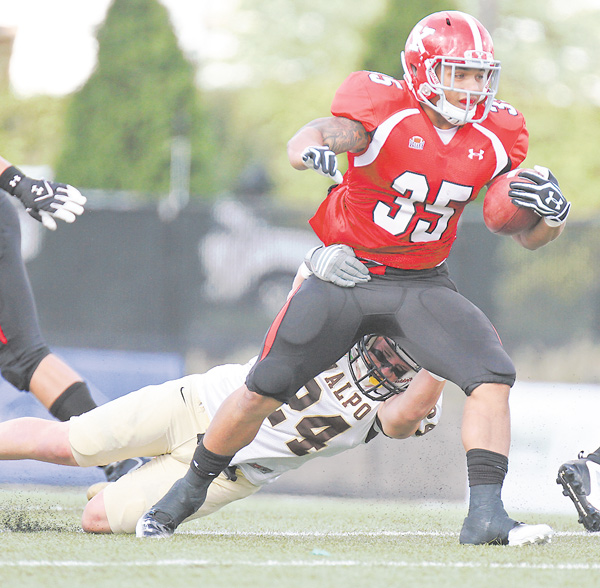 Photo
YSU's Jamaine Cook (35) drags Valparaiso's Patrick Derbek (24) during a Youngstown State game last season at Stambaugh Stadium. Cook has returned to the Cleveland Browns after being cut in May.
By Joe Scalzo
Three months after getting released by the Cleveland Browns — and less than a week before he was going to resume classes at Youngstown State — Jamaine Cook received a call from his agent telling him the Browns were interested in working him out.
It was Friday morning. Dion Lewis had fractured his fibula the night before in a preseason game against the Lions and Montario Hardesty had just had knee surgery, leaving Cleveland with just three running backs on the roster.
"I was like, 'Ah, I'd hate to drop everything just to get cut again,'" said Cook, who had signed with the Browns after going undrafted in April, only to get cut in late May. "But it's my dream and I have to give all I have. At the end of the day, you don't want to have any regrets."
So, he drove to Berea — just a few minutes away from his hometown of Midpark — and found himself working out in front of offensive coordinator Norv Turner and a couple other coaches on Saturday morning.
His workout competition was former West Virginia standout Steve Slaton, a third-round pick in the 2008 draft who rushed for nearly 1,300 yards as a rookie with the Houston Texans but hasn't played in a regular season game since 2011.
"The workout went really [well] and I showed a lot of quickness but I was very nervous going into [GM Michael Lombardi's] office," Cook said.
"I thought, 'He's got the edge on me because he's been in the league, he was the Texans running back before Arian Foster, he's had a 1,000-yard season and I'm just trying to get my foot in the door in the league.'"
Then Lombardi told him he wanted Cook to sign. But Cook — who has a 11/2-year-old daughter to think about — wanted to make sure he wasn't postponing school just for a two-week training camp stint.
"But Mike Lombardi said, 'Jamaine, you have a great opportunity. I have kids, too, and I wouldn't tell you to do this if I didn't think you had a great chance of making the team,'" said Cook, who rushed for more than 1,000 yards in each of the last three years at YSU.
"After that, I got a lot more confident. It made me feel like I'm in a better position than I was when I signed the first time.'"
To make room on the roster, the Browns cut safety Kenronte Walker on Sunday.
Cook will battle with Brandon Jackson and Miguel Maysonet for playing time behind starter Trent Richardson.
Cook isn't sure if he'll play in Saturday's preseason game at Indianapolis but he feels like he's got a head start since he learned some of the playbook in May.
"So it's not like it's a foreign language," he said.
"I'm just going to play it by ear and do the best I can in practice."
One more thing. Today is Cook's birthday.
"It was going to be my first birthday since I was a kid when I wasn't in a football training camp," said Cook, who turns 22. "I couldn't have asked for a better birthday present.
"It's crazy how things worked out. It just shows you that God doesn't do things on your time, he does things on his time. I was truly humbled this summer but I'm just happy God put me in position to be here now."