Construction begins on Eastlake MetroPark in Cortland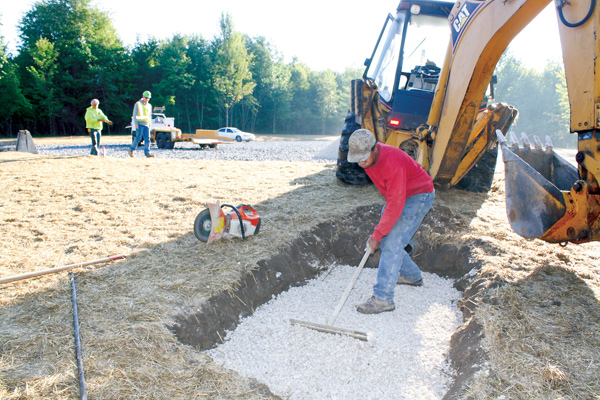 ---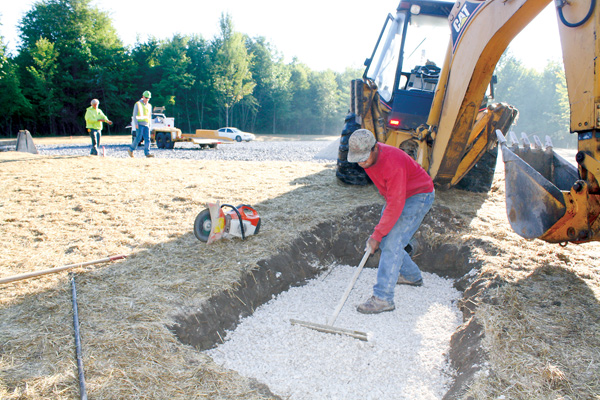 Photo
Workers with Miller-Young Paving of Bazetta, including Curtis Jones in the foreground, are shown at the new Eastlake MetroPark being created on state Route 46 just north of the Lake Vista retirement community in Cortland.
By Ed Runyan
CORTLAND
Ideas for using government-owned land on the east side of Mosquito Lake for recreation are finally starting to take shape with construction of a parking lot that will serve a sled-riding hill this winter.
Work by Miller-Young Paving of Bazetta Township to create the entrance and parking lot for the Eastlake MetroPark is nearly complete.
The park is just north of the Lake Vista retirement community on state Route 46.
Zach Svette, operations director for the Trumbull County MetroParks, said the project is a collaboration among the MetroParks board, Ohio Department of Natural Resources and the city of Cortland.
The MetroParks board leased the land from the ODNR and obtained funding to pay the $168,000 for construction of the parking lot. The city of Cortland is handling construction of the sled-riding hill.
There are other sled-riding hills in Trumbull County, but this will be the first one built with sled-riding as its primary purpose, Svette said.
People use a hill on Young's Run disc golf course at Clarence Darrow MetroPark in Champion, but it wasn't created for that and isn't as high as the new one will be at Eastlake MetroPark.
The Eastlake hill will have other uses besides sled riding, Svette said, such as a natural amphitheater, with an audience being able to use the hill as seating while watching a performance at the bottom of the hill.
Donald Wittman, Cortland service director, said the hill is likely to be 50 to 70 feet high and will provide a ride of about 100 feet or more.
The hill will be constructed west of the new parking lot in a semi-circle design facing north.
The city also plans to handle clearing of about 8 acres to the north of the new parking lot for festival grounds that will accommodate picnics and other "passive" types of recreation, such as playing backyard games, Wittman said.
Wittman said he expects that area to be cleared and prepared sometime this year.
Svette and Wittman said they believe work will be done soon to connect the new park with Turkey Run, an existing hiking trail to the south.
The new park is part of a 144-acre parcel owned by ODNR for which Cortland and Trumbull County officials have proposed several types of recreation over the past decade.
About 13 years ago, Cortland officials considered using the land for athletic facilities and a boardwalk, but there were concerns about the cost.
About six years ago, county officials proposed building a $35 million lodge and water park there, but state officials were concerned it would compete with existing Geneva and Punderson Manor lodges.
Wittman said he believes Eastlake MetroPark eventually will contain restrooms, an ice-skating rink and warming hut for winter activities.