Beehives Are New Attraction At Fellows Riverside Gardens
Honey Bees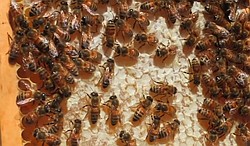 Video
A pair of beehives is a hit with visitors to Fellows Riverside Gardens.
Photos and story by William D. Lewis
BOARDMAN
Lori Mowad, an educator at Mill Creek MetroParks, is proud as a queen bee when talking about her bees.
A pair of beehives were added this spring behind glass observation doors at the family garden in Fellows Riverside Gardens and have been a big hit with visitors.
Fellows Riverside Gardens, with its extensive variety of flowers, is a perfect home for bees. The family garden is adjacent to the gardens and features plants, displays and activities geared toward children.
On May 28, two hives with about 1,500 bees each were placed in the family garden. Mowad estimates there are about 1 million of the buzzing insects in the hives making honey now.
The hives are behind glass doors so visitors safely can watch the steady stream of bees entering and leaving.
Mowad and beekeeper Don Kovach, donning white jackets and hats with protective screening, used a smoke- producing device to calm the bees while they opened one of the hives to inspect it. What they found were lots of bees and lots of honey.
The bees must find the location to their liking, because when the first harvest of honey was done in late July, 77 pounds of honey was collected. "That's pretty fabulous" said Mowad, adding the honey had a lemon flavor due to some of the flowers growing nearby.
The next harvest of honey is planned for mid- September. Mowad said a significant amount of honey will be left in the hives to help the bees through the winter.
Honey from the hives is being sold at the gift shop in the Davis Center at Fellows Riverside Gardens, and proceeds are being used to help fund family garden programs.