Dinner honors McBride anniversary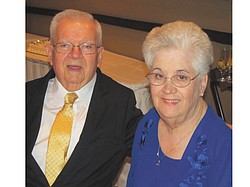 Photo
Mr. and Mrs. Thomas McBride
BOARDMAN
Mr. and Mrs. Thomas McBride of Boardman celebrated their 50th wedding anniversary Aug. 11 with a family dinner at Holiday Inn, hosted by their children and grandchildren.
Their children are Atty. Michael J. McBride and Noreen McBride, both of Boardman; and Atty. Robert J. (Christine) McBride of Canton.
They also have two grandchildren, Robert and Mary Beth McBride.
The former Jean Hannon and Mr. McBride were married Aug. 10, 1963, at Our Lady of Perpetual Help in McDonald.
The couple are members of St. Dominic Church in Youngstown.
Mrs. McBride worked as a registered radiologic technologist at various private practices and retired in 2007.
Mr. McBride was a maintenance and store room clerk for the City of Youngstown Dept. of Water and retired in 1995. He is a member of Mahoning Valley Gaelic Society.