Brintzenhofes' honored with dinner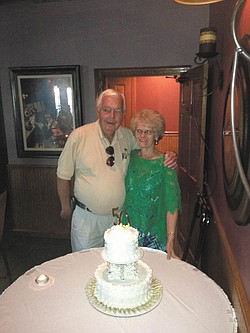 Photo
Mr. and Mrs. Richard Brintzenhofe
NORTH LIMA
Richard and Delores Brintzenhofe of North Lima were honored with a dinner at Steamer's Stonewall Tavern July 26 in celebration of their 50th wedding anniversary.
It was hosted by their children, Richard Brintzenhofe Jr. of North Lima and Renee Van Horn of Chesterfield, Mo.
Five grandchildren complete the family. They are Rochele, Lucas and Rebecca Brintzenhofe and Chad and Bailey Van Horn.
Mr. Brintzenhofe and the former Delores Stuhldreher were married July 20, 1963, in Winchester, Va.
The couple are members of Mount Olivet United Church of Christ.
Mrs. Brintzenhofe has been a real estate agent for the past 35 years. She is a member of Columbiana Eastern Star and Al Koran Lady Shriners.
Mr. Brintzenhofe retired from W.W. Grainger in Youngstown where he worked as an account manager. He was honorably discharged from the U.S. Army in 1960. He is a member of Columbiana Masonic Lodge 278, where he served as past master, was past president of Youngstown Shrine Club and is a member of Royal Order of Jesters. He is an avid golfer.