Husband, wife get YSU degrees the nontraditional way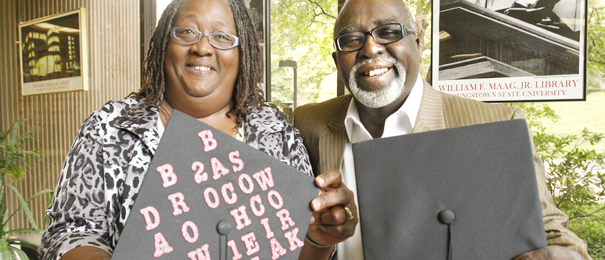 ---
By DENISE DICK
denise_dick@vindy.com
Youngstown
While other people their age cheer on their children and grandchildren from the Beeghly Center stands at today's Youngs-town State University summer commencement, Darlene and Harold Brown will be walking across the stage to get their own diplomas.
Darlene, 56, earned her bachelor's degree in social work, while her husband, Harold, 67, earned his associate's degree in social work. Both enrolled at YSU in 2008.
The year before, Darlene read a story in The Vindicator about a man who completed his coursework at YSU at age 60. She suggested that she and Harold consider following suit.
The couple moved to the city from Cleveland in 2006. She's originally from New Castle, Pa.; he's from Cleveland. They moved to Youngstown for personal reasons.
Darlene is on disability for bad knees after working as a cook in a steak and gyro restaurant, and Harold is retired from Cleveland Electric Illuminating Co.
"We were looking for something to do," Harold said.
At first, the prospect of going back to school after so many years intimidated the couple.
They worried about what they'd forgotten since high school, how to study and fitting in with younger, traditional students.
They sought help through the university's Reading and Study Skills Center.
"They teach you how to study," Harold said.
The teacher there advised him not to worry about trying to keep up with younger students but to concentrate on grasping the concepts in class.
"Once you get it, you'll get it," the instructor told him. "That was the best advice."
The work wasn't always easy. Darlene had to take algebra twice, working with a tutor to pass. She finished with a 3.4 grade-point average and membership in several honor and scholastic societies.
Harold finished his studies with a 3.32 GPA and also belonged to honor societies on campus.
It didn't take long for the couple to fit in with other students regardless of age differences. Students in the social-work program are a tight-knit group, Darlene said.
"We were welcomed in," she said.
Professors, many of them younger than the couple, also were available to help, they said.
While they say they didn't try to act like they knew more than anyone else, sometimes the Browns were like surrogate parents or grandparents for other students, offering advice when asked.
Living together while both going to school did call for some rules for the couple.
"We learned two things early on: Don't study together and don't take classes together," Darlene chuckled.
Darlene takes her time studying, while Harold quickly runs through his work. He's chatty in class, while she's quiet.
Harold could have graduated last December with his degree but decided to take a few more courses toward a bachelor's degree and graduate today, with Darlene.
"I figured we started this together, I wanted us to finish it together," he said.
While earning her degree, Darlene worked at the Rescue Mission of the Mahoning Valley and decided that's the kind of work she wants to do.
"I loved being there," she said.
Darlene plans to study for her license and then seek a job helping addicted women with children. Harold hopes to be a licensed drug and alcohol counselor.
The Browns encourage other older adults considering a degree to go for it.
"The help is there if you ask for it, but you have to ask," Harold said.