Program preps Struthers kids for kindergarten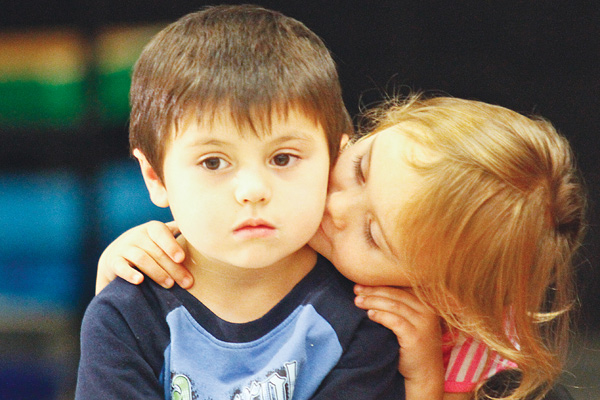 ---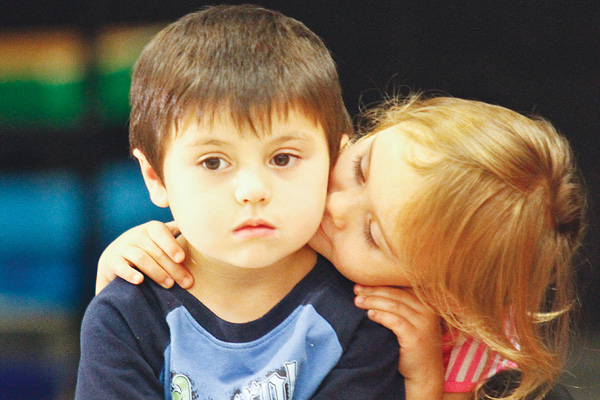 Photo
Jake Cracraft seems unaffected by this kiss from Nadeah Reese during a graduation celebration from the United Way of Youngstown and the Mahoning Valley's Success by Six program at Struthers Elementary School. The ceremony was Thursday. The program prepares children for kindergarten.
By ELISE McKEOWN SKOLNICK
news@vindy.com
STRUTHERS
A representative from the United Way of Youngstown and the Mahoning Valley presented a nutrition tracker to the parents of children in the Success by Six program at Struthers Elementary School.
Success by Six is a four-week summer program for children entering kindergarten meant to give them a head start. The program, funded by the United Way, includes a morning of
instruction from a licensed, certified teacher, busing to and from school, breakfast and lunch.
To begin Thursday's presentation, the Success by Six participants walked into the cafeteria and onto the stage, following their teachers and singing a song.
"You saw your little ones up on the stage. They came down the hall," said Kathy Mock, director of education and initiatives at United Way. "They know their school already. That's part of this program."
The children sang songs about the days of the week, the months of the year and the weather.
"Those are things they need to know," Mock said. "So they are learning through song, and it's fun."
Mock gave the parent of each child a backpack with a nutrition tracker.
The "An Apple a Day" tracker is intended to promote a healthy diet in children age 2 to 8.
"It's so very important that our children are healthy," Mock said. "If they're healthy, they'll do oh so much better in school."
The tool includes a series of windows that can be closed when a child eats a fruit or vegetable or other snack.
"So, by the end of the day, what you want to do is close up all those little windows and you'll know that your child has had a good, healthy, nutritional day," Mock said.
She also gave each a "Ready, Set, Grow" calendar the United Way developed in partnership with the Public Library of Youngstown and Mahoning County. The calendar provides activities, such as practicing phone number and address, to do with children on a daily basis.
The program is very good, said Erica Miner of Struthers. Her daughter, Baylee Miner, 5, participated in the program.
"It gets them ready for school," Miner said. "They ride the bus. They have lunch. They do homework, which the other kids who haven't done it won't want to do as much because they don't know what they're doing."
The nutrition tracker will be helpful, she added.
"[Y]ou actually pay attention to what your kids are eating rather than just letting them have whatever they want," she said.
Baylee said she enjoyed the four-week program. Her favorite part was singing the days-of-the-week song.
More like this from vindy.com