Browns, Weeden sharp again; Mingo, 4 others are injured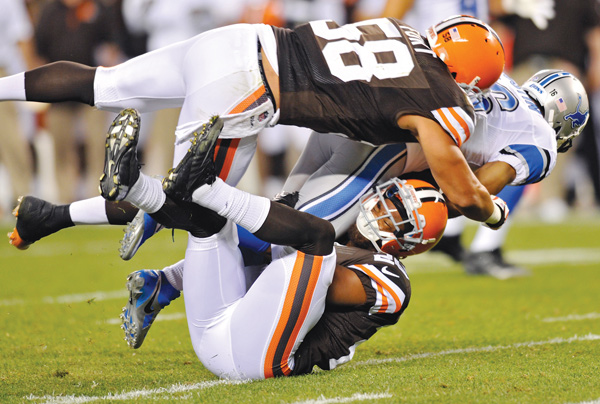 ---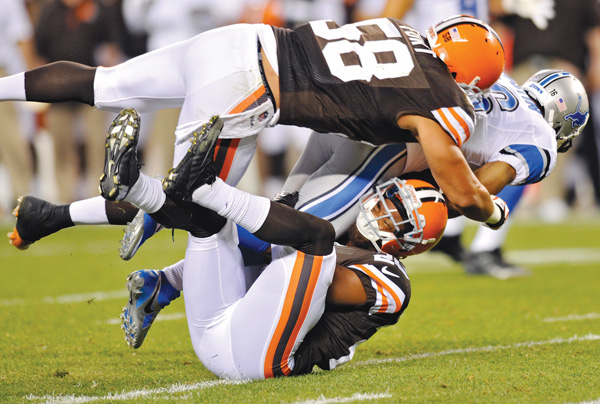 Photo
Browns cornerback Trevin Wade, bottom, brings down Lions wide receiver Terrence Austin with help from outside linebacker L.J. Fort (58) during the third quarter of a preseason NFL game at FirstEnergy Stadium in Cleveland. The Browns dominated the Lions 24-6.
Browns, Weeden sharp again; Mingo, 4 others are injured
Associated Press
Cleveland
A meaningless exhibition win for the Browns turned troubling, and then deeply serious.
From good to bad to worse.
Rookie linebacker Barkevious Mingo sustained a bruised lung, running back Dion Lewis broke his left leg and the Browns came away battered in a 24-6 victory over the Detroit Lions on Thursday night.
Mingo, the No. 6 overall pick in April's NFL draft, will be hospitalized in the Cleveland Clinic overnight with his injury. Browns coach Rob Chudzinski did not know how Mingo got hurt and didn't provide any other details of the young linebacker's condition.
A team spokesman said Mingo was taken to the Clinic's main campus before the game ended.
Mingo left in the first half with what the team initially reported as a rib injury. However, Chudzinski reported the bruised lung following the game and said Lewis, the team's valuable backup to starter Trent Richardson, had fractured his fibula.
"They're unfortunate," quarterback Brandon Weeden said of the injuries. "It's a preseason game, guys are flying around, a lot of adrenaline and all that stuff. We just got to get those guys back as soon as we can and the guys that are right behind them have to step up."
The Browns also lost starting right guard Jason Pinkston (sprained ankle), tight end Gary Barnidge (sprained shoulder) and rookie kicker Brandon Bogotay (groin). Pinkston left FirstEnergy Stadium wearing a walking boot and on crutches.
Lewis' injury could be especially costly for the Browns, who will be without running back Montario Hardesty for at least a month following knee surgery.
The injuries cast a pall over another solid performance by Weeden and both Cleveland's offense and defense.
"It was a tough night from an injury perspective," Chudzinski said. "But we made some strides from a performance standpoint. That's the game, guys get injured and other guys get opportunities and have to step up — and that's what good teams are able to do. And that's what we'll have to do."
Weeden threw two touchdown passes to Jordan Cameron and perhaps ended any more discussion about a quarterback competition in Cleveland. He connected on TD passes of 10 and 5 yards to Cameron in the first half as the Browns (2-0) opened a 17-0 lead.
Weeden finished 8 of 12 for 117 yards. In two weeks, he's 18 of 25 for 229 yards and three TDs.
On Tuesday, Chudzinski would not commit to a starter for Week 1, saying the competition between Weeden and backup Jason Campbell was "still close."
If it was, it's not anymore.
"Competition sells newspapers, I understand that," Weeden said. "Really all I can control is going out and playing well. Try to play mistake-free football, do the things that I can control and that's being accurate, managing this offense. And for the most part, I think I've done that through the first two games."
Richardson made his NFL exhibition debut and gained 33 yards on six carries, showing some elusiveness and power.