Crowds come for Bolotin closing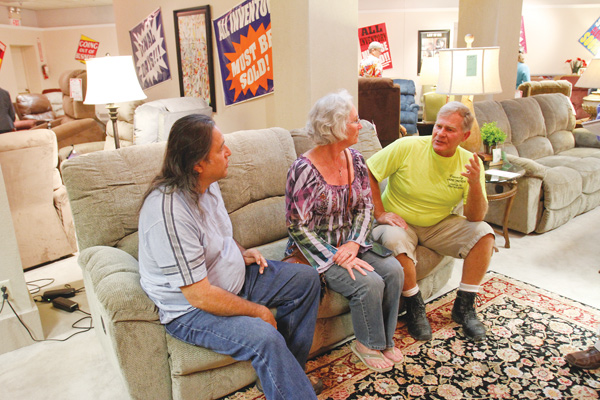 ---

Photo
From left, Steve Sanchez, Jackie Calvert and Andy Canady sit on a sofa at the going-out-of-business sale at Bolotin Furniture in Hermitage. The store will be closing after 107 years in business.
HERMITAGE, PA.
Bargain shoppers arrived in droves Thursday to find the best deals as a Hermitage business started its going-out-of-business sale after more than a century of operation.
Bolotin Furniture was founded in 1906 by Simon Bolotin and has remained family-owned, with four generations of Bolotins running the store, now at 3056 E. State St.
People started to line up more than an hour before the store opened.
The parking lots overflowed into neighboring businesses, and customers sat on furniture staking their claim waiting on employees to ring up their sales. Another group stood in a line at the back of the store to pay for their purchases.
"It's a shame to see them closing after all these years," said Jackie Calvert of West Middlesex. "I didn't realize the store had been open this long, but I should have. I remember coming here with my parents when I was a kid."
Watching a family-owned business close is disappointing, she said.
"It's hard for the family-owned businesses to compete with the big boys," Calvert said.
She's a recent customer with both she and her mother buying items there.
Andrew Canady of Hermitage said he and his wife also had just purchased furniture from Bolotin and that he was sad to see the store close.
The prices now are pretty close, if not the same, as they were before the sale, he said.
Ursula Fridley and her husband, Charles, were among those who found a deal. Ursula was sitting at a table she planned to purchase.
"We live near Cortland and had never heard of this place until we got the flier about the closing sale," Charles Fridley said.
The couple needed a new kitchen table and had planned to have one built by the Amish until they got the ad for the sale, he said.
"They're so busy we couldn't find anyone to help," Ursula Fridley said.
Mark Bolotin, the current owner, said he was closing the store not because of economics but for personal reasons. He also owns an online business through eBay selling items similar to those sold at the store.
At 67, Bolotin wanted to slow down to working one full-time job and have the ability to travel, he said. The online business allows him to work from anywhere. The store will close once all inventory is sold.
Bolotin Furniture isn't the only long time Hermitage business preparing to close its doors permanently.
Chiccarino's Italian Restaurant is closing Aug. 24 due to retirement, said owner Jerry Chiccarino. The restaurant has been open in Hermitage at 559 S. Hermitage Road for more than 21 years.
"It its time to hang up the spaghetti spoon," he said.
The store will become a Speedway gas station.