Cardinals rally to KO Burnett, slice lead to two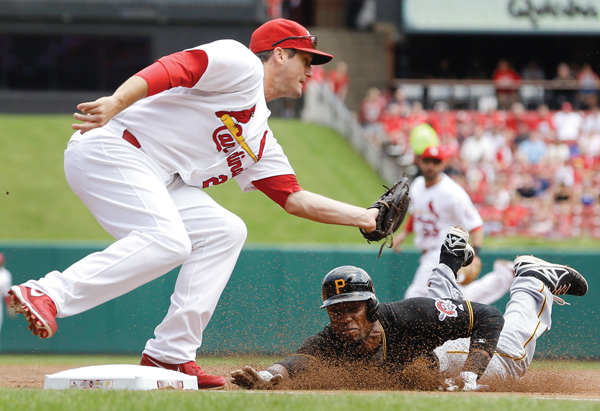 ---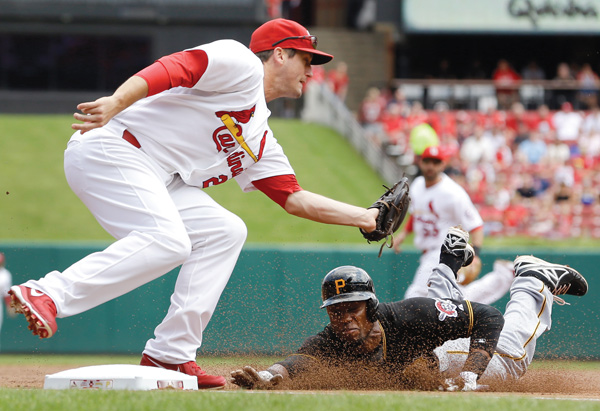 Photo
Cardinals third baseman David Freese prepares to tag out the Pirates' Starling Marte on a steal attempt during the first inning of Thursday's baseball game in St. Louis. The game was tied 5-5 until the 12th when Matt Holliday hit a walk-off single to score Matt Carpenter and lift the Cardinals over the Pirates, 6-5.
Associated Press
St. Louis
In a matter of minutes, A.J. Burnett squandered a four-run lead. It was the Pittsburgh Pirates' biggest failure in their latest setback.
"As good as it looked early, it's never easy against this group," said Burnett, who was knocked out in a five-run fifth during the St. Louis Cardinals' 6-5 12-inning victory on Thursday.
"They figured me out early. It's just a matter of putting them away and that's what I didn't do."
Matt Carpenter had four hits and scored the winning run on Matt Holliday's single for the Cardinals' second extra-inning triumph over the NL Central leaders in three days.
The Cardinals took two of three in the series to pull within two games of the sagging Pirates, who have dropped five of six. St. Louis won 4-3 in 14 innings in the series opener on Tuesday night.
"They're a good club, we're a good club," said Pirates reliever Tony Watson, who threw three scoreless innings and retired the heart of the order in the 11th. "We get them later in the year so we'll have to show up big."
Rookie Kevin Siegrist (1-1), St. Louis' seventh pitcher, struck out two in a perfect 12th.
Russell Martin and Clint Barmes homered for Pittsburgh, which blew a 4-0 lead in one inning. Jose Tabata had three straight hits after entering as a pinch hitter.
Carpenter sparked the winning rally with a one-out walk. He went to third on Jon Jay's single before Holliday grounded a single up the middle off Bryan Morris (5-6).
"He did a good job and laid off some pitches that started in the zone and broke away, so my hat's off to him for not swinging," Morris said. "My last pitch, it caught more of the plate than I wanted to and that's about it."
Carpenter, the Cardinals' leadoff man, leads the National League with 48 multihit games and 40 doubles. He entered with league-leading averages of .366 at home and .367 in day games.
Holliday also had an RBI double and has a 12-game hitting streak.
Martin hit a tying leadoff drive off Trevor Rosenthal in the eighth, handing the setup man his second blown save of St. Louis' 4-6 homestand.
The Pirates hit for the cycle against Lance Lynn in a four-run fifth that featured rookie Andrew Lambo's first hit and RBI on a double and Barmes' two-run homer.
The Cardinals responded in the bottom half with a two-run single by Daniel Descalso and RBIs in consecutive at-bats from Carpenter, Jon Jay and Holliday off Burnett.
"Everything seemed to be working back towards the middle and up," manager Clint Hurdle said. "There's some things we've tried to identify from the last start and from this start and I think we'll have a conversation to see if any of them are true."
The Pirates begin a three-game homestand tonight against the Diamondbacks.