Canfield girl makes, sells one-of-a-kind jewelry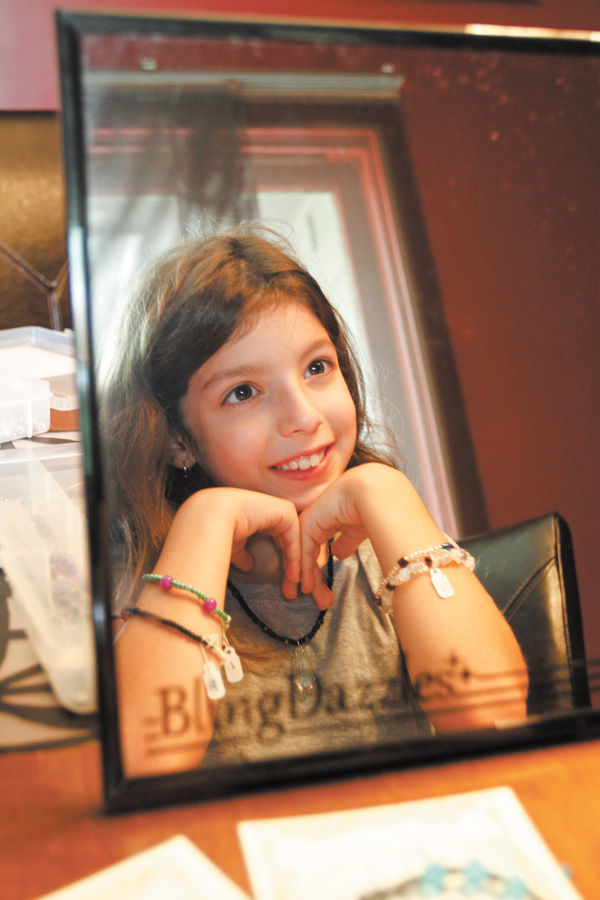 ---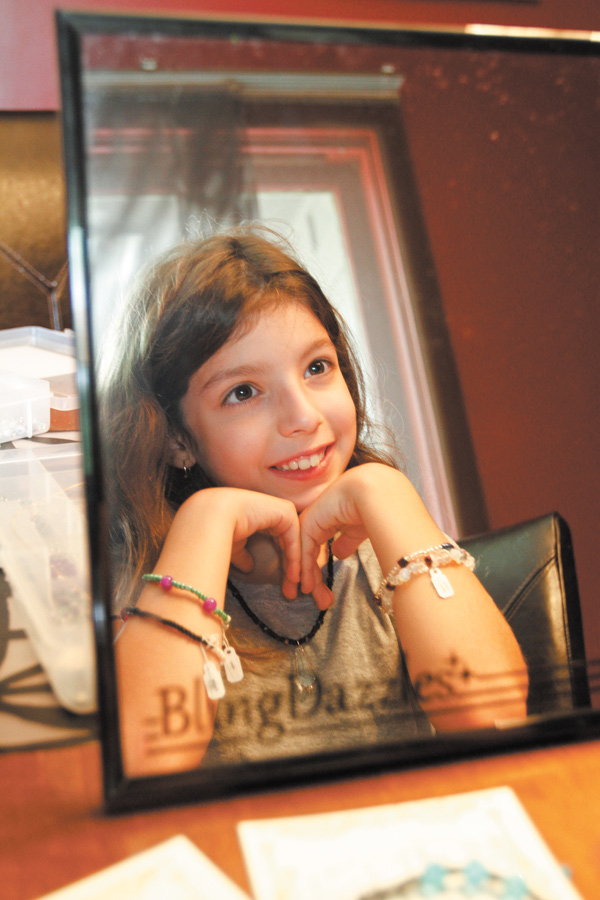 Photo
Talia Vale Mollica, the 9-year-old daughter of Kristen and Dominic Mollica of Canfield, recently started her own business, Bling Dazzles, to sell the jewelry she designs. Each piece is unique, and comes with a name and a story that explains her inspiration. Talia has made about 300 one-of-a-kind pieces.
By EMMALEE C. TORISK
CANFIELD
To 9-year-old Talia Vale Mollica, anything — from banana splits, to jellyfish, to summer lightning — can provide the inspiration necessary to create a one- of-a-kind piece of jewelry.
"I look around at different things, and I think about what I want to name the jewelry before I make it," said Talia, a self-proclaimed jewelry artist.
"If I'm thinking about outside, I'll make the jewelry look a little bit like it."
Last year, with the goal of making each piece unique, Talia embarked on her first business venture, Bling Dazzles, with a little bit of help from her mother, Kristen Mollica.
But while Mollica provided about $50 worth of seed money for supplies and designed the Bling Dazzles website, everything else — like sticking to a budget when buying beads, or keeping track of exactly how many creations she's sold — is entirely up to Talia.
This isn't the first time Talia has taken an interest in jewelry, though.
She's always adored craft kits, and as a 4-year-old, made a bracelet of multicolored wooden beads and yarn for her mother. Whenever Mollica wore it, she'd receive compliments on its design.
"Talia is always looking for something to do, and is always bored. One day, she said, I want to [make jewelry] for real," Mollica said.
"She really wanted to do a business. It's teaching her a lot about responsibility."
So far, the fourth-grader at C.H. Campbell Elementary School has designed about 300 different pieces, including bracelets, necklaces and earrings. Each piece, which takes about an hour or two to construct, comes with a name and a story explaining Talia's inspiration.
Since starting Bling Dazzles, Mollica said, Talia has received requests to duplicate her creations, but politely refuses.
Instead, she'll make something that is similar — but not exactly the same.
"Nothing is replicated," Mollica said. "No one else is ever going to have that same piece."
Talia estimated that she has already sold about 150 pieces of jewelry, with 90 percent of the proceeds from each piece going directly into her college fund.
The remaining 10 percent is donated to one of several charities, such as St. Jude Children's Research Hospital and the American Cancer Society, in the customer's name.
Most sales have been through the Bling Dazzles' website, www.blingdazzles.com, and at the Ursuline Center Car Trunk and Treasure Sale last month. The sale, Talia's first, was a learning experience for her daughter, Mollica said.
First, Talia — who often designs her jewelry in "little creative bursts," Mollica said — had to be dedicated and committed enough to create about 100 new pieces to bring to the show. She made 130.
In addition, Talia said she wasn't very happy when she noticed that other vendors were selling jewelry at the show as well. It was an important lesson in competition, and one that inspired her to purchase more, and better displays for her jewelry almost immediately afterward, she said.
Karen Curtis, who volunteered at the sale, said she was most impressed that Talia had created each and every piece of jewelry herself, and also that a child would be so interested in wanting to start a business.
"She's very sophisticated for 9," Curtis said. "For that age, to be that intuitive, I think she has a bright future ahead of her."
Talia's aunt, Candace Wiskunas, agreed, adding that she's one of Bling Dazzles' best customers. Wiskunas likes that Talia puts a great deal of thought into each design.
"The pieces are special to her, and she can tell you about them all," Wiskunas said. "She has that interest and motivation, and I'd love to see her continue."
Mollica said she's never pushed Talia to stick with her business, and has encouraged her to pursue it only as long as she wants. When she decides that she's done with making jewelry, Mollica will simply take the remaining pieces into her own collection.
But Talia, who admitted that she sometimes gets distracted by going on bike rides or playing on the computer, said she enjoys the freedom to create, and doesn't think she'll run out of inspiration any time soon.
"I like that you get to take your time and make a piece," she said. "You can have fun with it."