Animal Resource Center offers activities, services and resources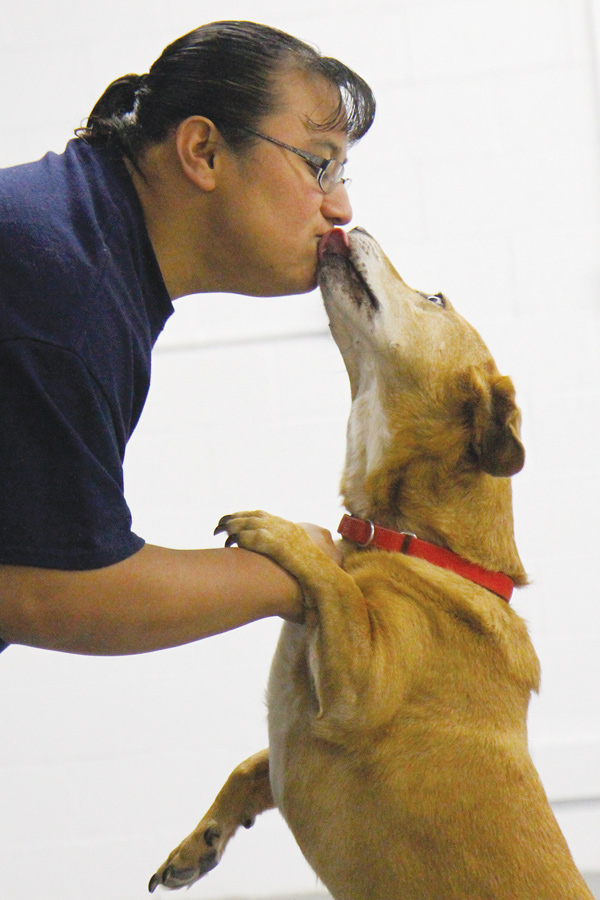 ---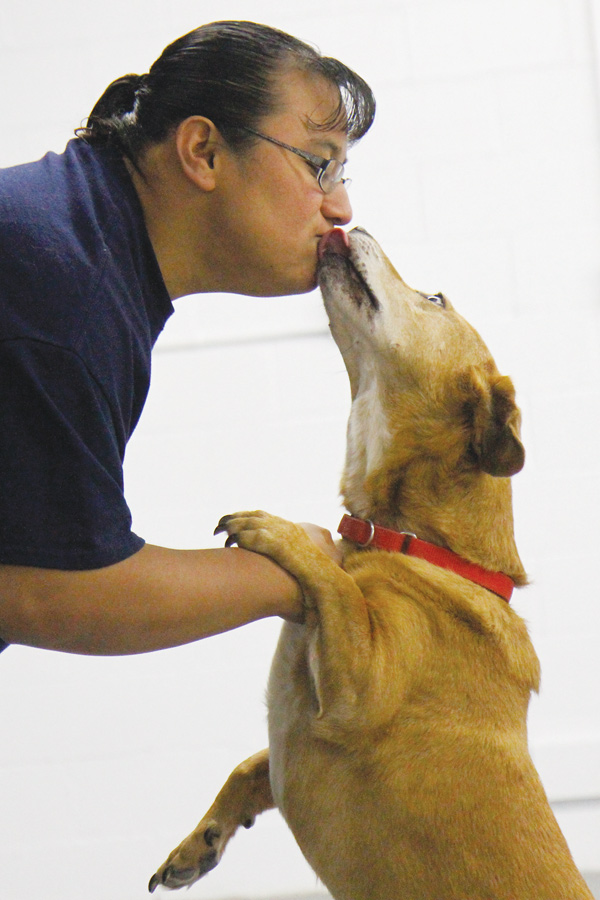 Photo
Stephanie Peterson, above, a humane agent with Humane Society of Columbiana County, gets a wet kiss from Sunshine, a 4-year-old bassett hound and Labrador retriever mix. The society will host an open house at the new Animal Resource Complex, 721 E. Pidgeon Road, Salem, a site for pet-related activities, services and resources.
By LINDA M. LINONIS
Salem
Heather Jurina, director of the Humane Society of Columbiana County, had a doggone good idea, and it's coming to fruition this Saturday.
That's the day of the open house at the society's new Animal Resource Complex, 721 E. Pidgeon Road, the former location of Habitat for Humanity's ReStore, which has relocated.
"I saw a need for such a place," said Jurina, who also is a humane agent with HSCC. She said the center will offer a range of pet-related activities, services and resources.
"This place will help give people the tools to care for their pets," added Stephanie Peterson, also a humane agent.
The center will have an indoor dog walk, offer dog- training sessions and host dog-friendly events.
Though the elements of the center are all there, they have to be assembled and arranged by Saturday. But Jurina is confident. The last part will be putting down rubber mats on the floor. "They're easy on dogs' paws and easy to sanitize," she said.
At the center, there will be an area for walking and playtime. Moveable fencing with gates provides flexibility on size and location of the area.
"At the indoor walk, people also will have a chance to walk a shelter dog," Jurina said, adding that would be by pre- arrangement. That gives the dog some time away from the shelter and gives potential owners the chance to interact with a pet.
A small retail area will offer pet products and toys.
A wall is being devoted to former shelter animals who were adopted and have since died as well as current pets. For a fee of $25, Jurina said an artist will design and decorate a block to honor a pet.
From her experience as a humane agent, Jurina said she has found 80 percent to 90 percent of people "respond positively" when they are educated about pet care and learn about their options. "I've found teaching people about nutrition, vet care and vaccinations makes the lives of their pets better, and they enjoy having a pet more," she said.
An anonymous donor paid for the yearlong lease, Jurina said. Though she believes the center will offer valuable services, it's also part experiment. "We're seeing if it could be a stream of income to help support the shelter," she said.
That will come from training sessions provided by The Learning Dog Training and Enrichment Center in Hubbard, which will start in September. The center also may be rented for private pet parties for $30 an hour and private play time at $10 an hour. The first "Fast and Furriest" 5K run/walk will be Nov. 9 at Waterworth Memorial Park.
Fundraisers will include family and pet movie nights and "Howl at the Moon" evening walks.
Jurina said HSCC also will work with Happy Trails, a farm-animal sanctuary in Ravenna, to provide an educational program on animal care.
She also said the center hopes to offer a pet-food pantry to help people and their animals.
Jurina said an incident she witnessed prompted her involvement with the humane society. She said she saw a dog thrown and kicked by its owner; she made a complaint about it.
She became a volunteer, a foster pet parent, kennel attendant then shelter manager.
Peterson, who had worked in child welfare, said the skills needed for that job transferred to her work as a humane agent. "The greatest reward is seeing animals find forever adoptive homes," she said.
Jurina said HSCC has about 130 animals in its care, including 50 cats, 40 dogs and a rabbit named Prince George.
In its agricultural-life section, housed in foster care, are horses, goats and chickens. The HSCC's no-kill, no-suffering shelter focuses on the quality of life for animals, she said.
HSCC does everything it can to follow through on its motto: "Because every pet deserves a second chance."