East Side gang members indicted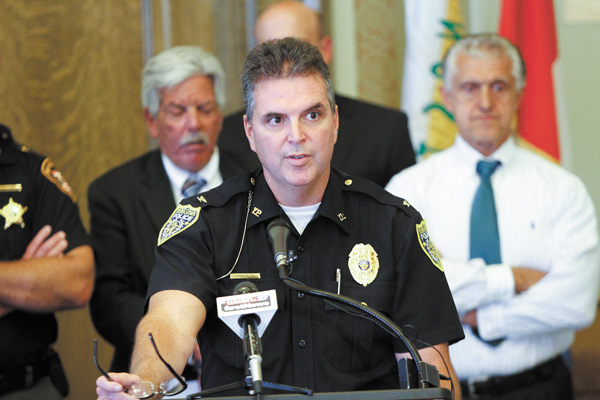 ---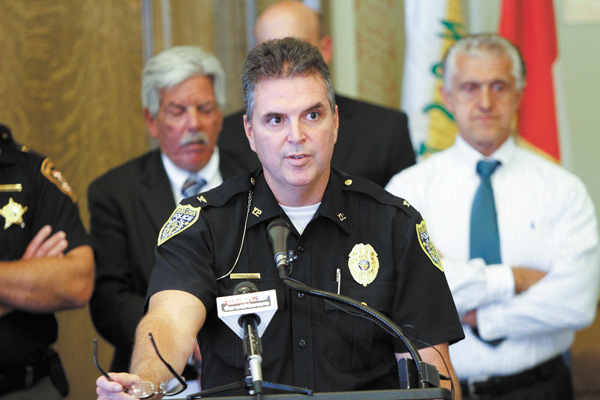 Photo
Youngstown Police Chief Rod Foley speaks with reporters Monday after announcing that 11 of 13 members of an East Side street gang around the Victory Estates housing projects were in custody.
By Joe Gorman
Youngstown
Police Chief Rod Foley said members of an East Side street gang around the Victory Estates housing projects who were secretly indicted last week first came to their attention last year after a series of shootings.
At a news conference Monday announcing the indictments, Foley said the members of the gang, known as the "Vic Boys," and other gang members in Youngstown should get used to seeing the police if they do not want to change their lifestyle.
Eleven of the 13 people indicted are under arrest. Two other adults remain at large. Three juveniles also were indicted in juvenile court.
The investigation that led to the indictments was begun by the FBI's Mahoning Valley Violent Crimes Task Force and took almost a full year, Foley said. Gang members were indicted on charges ranging from trafficking in marijuana, trafficking in cocaine, being felons in illegal possession of a weapon and engaging in a pattern of corrupt activity.
The members were indicted in Mahoning County Common Pleas Court rather than in federal court. Foley said handling the indictments locally allows for investigators to move the case along faster and get the gang members off the streets quicker and to stop the violent nature of their criminal enterprise.
Foley said the gang first caught the attention of law enforcement because of members' involvement in several shootings and homicides in 2012, either as victims or suspects.
"We realized this was one of our major groups," Foley said.
He credited an investigation by task force members Steve Woodberry and Marc Gillette of the Youngstown Police Department and John Martin of the Boardman Police Department that led to the indictments.
Mayor Charles Sammarone said he was grateful for the help both by federal and county authorities in securing the indictments.
"The chief has put together a good team and it's showing," Sammarone said.
County Prosecutor Paul J. Gains said assistant prosecutor Martin Desmond did a lot of work on the indictments.
He added the gang members would not hesitate to use violence to accomplish their goals.
"They had no inhibitions to use violence," Gains said.
Foley said the indictments are part of the department's two-pronged approach under the Community Initiative to Reduce Violence program, of CIRV, which targets gangs and other known violent criminals. Foley said those people are offered help by religious organizations and social organizations to get out of a lifestyle of crime, but if they persist in committing crimes, they will be arrested.
Guy Burney, the CIRV coordinator, and several local pastors who are part of the CIRV program also were at the press conference. Burney urged anyone involved in a criminal lifestyle to make changes in their life or else they will wind up in jail.
"The violence will stop one way or another," Burney said. "We want to make sure we can get to you before it's too late."
Gains said there will be no tolerance for the kind of crimes the Vic Boys are accused of committing.
"You will never know when that knock comes on your door," Gains said. "And believe me, it will come."