Programs bulging with heroin addicts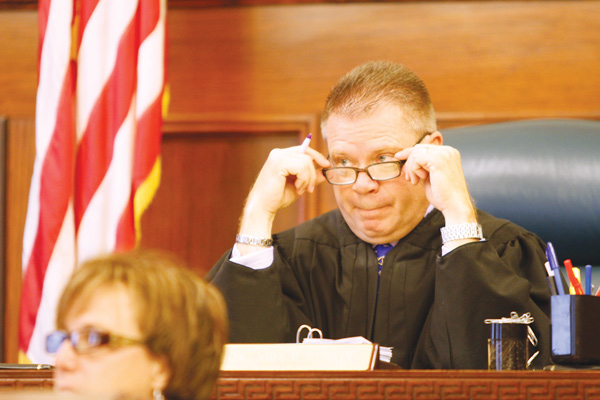 ---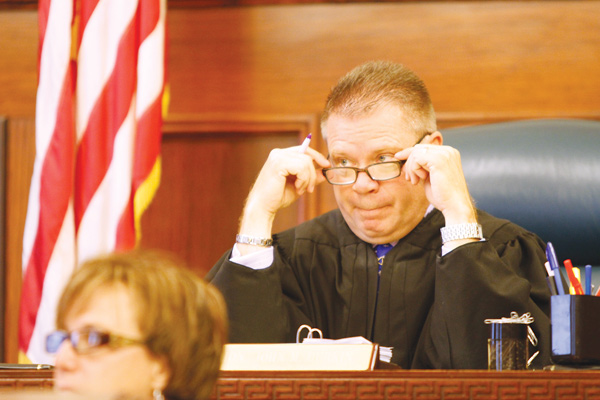 Photo
Judge John Durkin presides over Mahoning County Common Pleas Court's drug court.
Second in a two-day series.
By Joe Gorman
youngstown
Drug-treatment services in the Mahoning Valley are feeling the crunch of a rise in the use of opiate-based drugs and heroin.
Judge John Durkin of Mahoning County Common Pleas Court says that not only has his drug court seen more people struggling with opiate and heroin addiction, but also it has seen more young people. In 1998, when the program started, the average age of participants was 35 and the drug of choice was cocaine. Now the average age of participants is 23, and the choice is heroin, Judge Durkin said.
Judge Durkin said he agrees with some law-enforcement officials who say that the rise in heroin use has been fueled by doctors who overprescribe opiate-based painkillers. People get addicted, then turn to heroin when they can get no more prescriptions filled, or their access to pills is cut off because heroin is cheaper.
Lauren Thorp of the Trumbull County Mental Health and Recovery Board adds that while clients are referred to two clinics, the bed space is often booked.
The Trumbull board is feeling the rise of opiate use as well. In 2011, Trumbull County ranked seventh in Ohio for opiate-based deaths.
Thorp said one reason Trumbull has such a high rate of heroin and opiate users is the county's high rates of unemployment and poverty. Also, the county is an area that has traditionally attracted a lot of drug traffickers because of Trumbull's closeness to several major road networks.
This year, police agencies across the area have also grappled with the problem, as reports have surfaced of people passed out in cars with syringes still in their arms, people from far away coming into Youngstown or Warren looking for drugs or in some cases pleading not to go back to jail because of the withdrawals they will suffer from heroin.
Thorp said her agency refers people to treatment centers for heroin- and opiate-based addictions, but she said for a lot of those programs it's hard to find space for people.
"We cannot meet the demand," she said.
The board contacts with two facilities to help people go through detox programs, but they are often backed up as well because there is not enough room to accommodate people who want help, Thorp said.
Getting inpatient help is also difficult because of a shortage of funds and space, Thorp said. She said a lot of people who come for treatment don't have Medicaid or other types of insurance.
Thorp said people often wait until their lives are a complete wreck before they turn to someone and ask for help. "They call me when they're desperate," she said.
Especially hard hit are people who have lost their jobs because of their addictions and have nowhere else to turn, Thorp said.
"That's the population that's hit hardest, the people who need it [help] the most," Thorp said.
Thorp said the agency tries to get people to outpatient programs as soon as possible that may have some space freeing up, including faith-based programs.
Judge Durkin said in his drug court, he sees all kinds of defendants — from well-to-do professionals to those young and just starting out in life.
The judge said opiates and heroin also have changed some of the treatment philosophies in the drug court. When the court started, it was based on a 12-step model much like Alcoholics Anonymous where abstinence from drugs played a key role, he said. With more and more people being addicted to opiates, however, Judge Durkin said the trend is toward medical-based treatment and various drugs to help the addict through the stages of withdrawal.
His drug court is part of a nationally-based program that is conducting a study tracking the outcomes of participants who use responsible doses of medication, especially with the drug Suboxone. He said people who use that drug must meet a protocol that includes two prior attempts at treatment along with an assessment that tries to find out if they are fit to take the drug. Still, Judge Durkin saideven that is not guaranteed to cure someone of their addiction.
"What we tell people is it's not a magic pill," Judge Durkin said.
Defendants in drug court are referred by defense attorneys, law enforcement, or the defendants themselves. They are screened to determine if they are eligible for drug court. One requirement is that they have a substance abuse problem. Once they are accepted, they plead guilty in open court and begin receiving treatment from various community agencies. Defendants also must not be facing a charge of violence and are often people accused of low felonies. There is a similar program in the county court system for misdemeanor offenders.
Thorp said she has seen some improvement in Trumbull County, with a decrease in people seeking treatment for opiate-based addictions in 2012 compared with 2011. She said in the past couple of years more families are also getting better educated about the dangers of opiate use, and that may also be helping to decrease the number of addicts.
Judge Durkin said another new approach is that people need to realize that a lot of times in treating an addiction, a person is not going to be cured the first, second or sometimes even the third time they try treatment. He also said adults have to do a better job of securing medications they have to keep them out of the reach of teens who may want to experiment with them.
He said the percentage of people addicted to heroin who started out experimenting with pills is very high, and that might be a way to cut down on heroin usage. Education in schools can also help by warning students about the dangers of pills, Judge Durkin said.
"They didn't start out with heroin. They started out with pain pills," Judge Durkin said.