VexFest 9 features 25 bands in free venue
---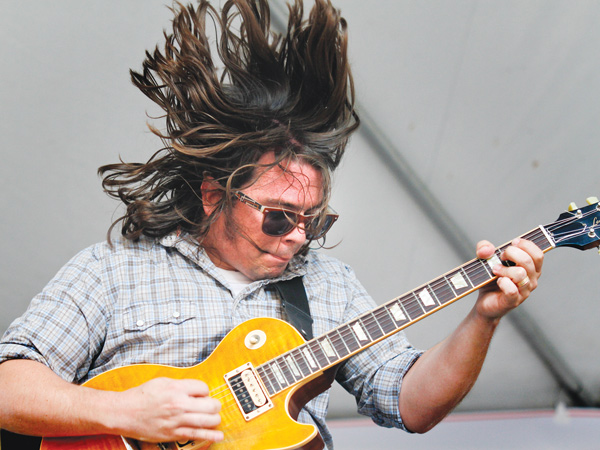 Photo
Trevor Harlot of Scarlet and the Harlots plays guitar during a set by the band from Kent during VexFest 9 on Sunday in downtown Youngstown. Twenty-five bands played on two sites on East Federal Street and at Warehouse 50.
By LINDA M. LINONIS
YOUNGSTOWN
The teen and 20- something crowd showed up in force Sunday as the sounds of VexFest echoed through the streets downtown. And scattered among the young set were music lovers of an older vintage along with some families of various age ranges.
Hoss Jarman, 31, and Ryan Rexroad, 25, coordinators of VexFest 9 from Youngstown Local Music, said they expected about 8,000 people to come and go at this year's free venue. Twenty-five bands played about 45-minutes each at three sites on East Federal Street — East and West stages and Warehouse 50 Stage. Headliner Jones for Revival played the East Stage from 11:15 p.m. to 1 a.m.
Rexroad said the name VexFest was picked "arbitrarily" ... just to "have something different."
The music was a mix of psychedelic, reggae, folk, soul, hard rock, hip-hop and jam.
"We want to appeal to a diverse market. We want to give the audience all Youngstown has to offer with alternative styles," Rexroad said.
"It's the single biggest one-day event in Youngstown," Jarman said, adding the event "shows all the city has to offer."
Both coordinators are involved in music themselves. Jarman is lead singer with Hoss and the Juggernauts and Rexroad plays bass guitar with Robbie Jay, both Valley bands.
They said VexFest not only showcases Valley bands but the downtown as well. "It's a good way to bring people into the city," said Rexroad, who lives downtown. "We hope all ages and families come down for the day."
"There's a diverse crowd but it's mellow," Jarman said. "Youngstown is a cool city with rough reputation. VexFest has a good reputation. It's exciting to see these people come together and have fun together."
Rexroad said he sees the free music event as another way for the city to "rebrand itself." "This is a positive event ... where you can hear music of different styles."
Judy and Jim Locketti of Austintown along with 24-year-old daughter, Kaleigh, were among the crowd. "I wanted to come and support the bands," Kaleigh Locketti said, adding she knew some of the musicians.
Her father joked whether Neil Diamond would be playing and said he "grew up in the AC/DC era."
Amanda Semeraro and John Kashay of Warren were listening to the bands with their 4-year-son, Landon. They came to see Tropidelic.
Semeraro, at her first VexFest, said they came because the event welcomed families.
"We wanted to support the local music community," Kashay said. He added it looked like a "good crowd was turning out" for the event.
Jackie Wessel of Cleveland, a fan of Tropidelic, said she follows the band where they play. She danced to the music by keeping two hula hoops spinning.
It was her first visit to VexFest and Youngstown. "I'm here all day for the music," she said. "Youngstown seems like small cities within a big city."
Those attending VexFest went through an entrance gate, where identifications had to be shown and a metal detector was used. In addition to VexFest security, there was a city police presence.
Harman and Rexroad said among VexFest sponsors were Boardman Suburu, Speed Energy Drink, Miller and Coors Lite and Warehouse 50.
More like this from vindy.com
August 12, 2013 12:09 a.m.