Northstar 1 well remains idle with no plans for site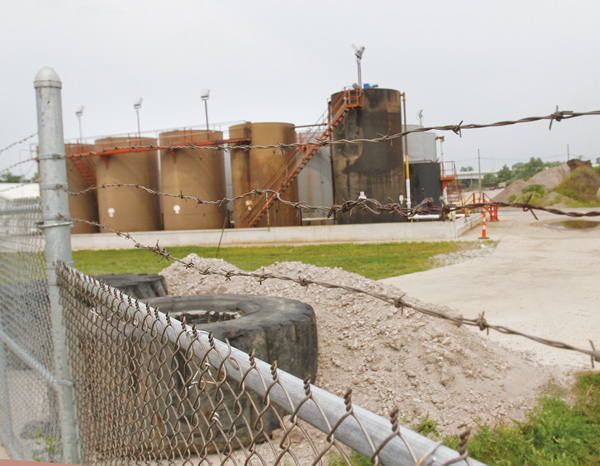 ---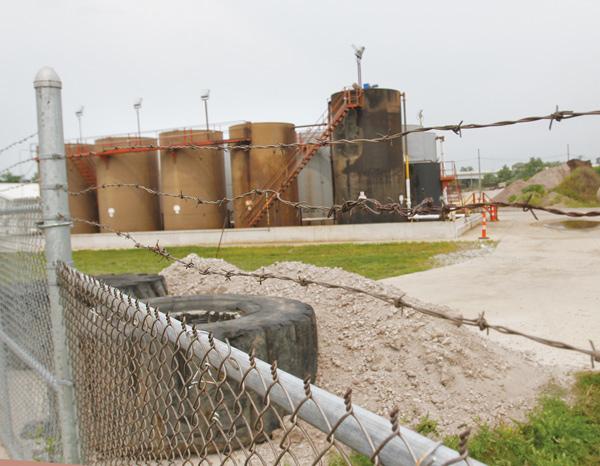 Photo
An old pile of tires and a chain-link fence block the entrance to the site of the Northstar 1 injection well in Youngstown, where storage tanks have started to rust. Its idleness has prompted 4th Ward Youngstown City Councilman Mike Ray to ask state officials about what is being planned at the site.
youngstown
Nearly two years after the Northstar 1 injection well on the city's West Side ceased operations and a little more than five months after its owner, Ben W. Lupo, was charged with violating the Clean Water Act, the site remains shuttered and unattended.
Although the closing of the well and Lupo's indictment by a federal grand jury are unrelated, both matters share notoriety in Youngstown and beyond.
The Northstar 1 well was ordered closed by the Ohio Department of Natural Resources in 2011 after a series of earthquakes — one of which measured at a magnitude of 4.0 — were triggered nearby.
In 2012, ODNR released a report that strongly suggested the well played a part in those quakes after it was learned that operators drilled too deeply into a layer of basement rock known as the Precambrian 9,000 feet below the earth's surface.
The well was operated by Northstar Disposal LLC., which Lupo owns. Another of his companies, D&L Energy used the site to dispose of waste generated during the hydraulic fracturing process at its oil and gas wells nearby.
Lupo has since pleaded not guilty to charges that he instructed an employee at another of his companies, Hardrock Excavating, to dump tens of thousands of gallons of oilfield waste down a storm drain on Salt Spring Road.
Following state regulators discovery of the dumping incident, ODNR permanently revoked all of D&L's injection permits in a decision that was upheld on appeal by the Ohio Oil and Gas Commission.
Currently, D&L is appealing both of those rulings in the Franklin County Court of Common Pleas.
The Northstar 1 injection well, located on Ohio Works Drive, remains inoperational. Mark Bruce, a spokesman for the Ohio Department of Natural Resources Division of Oil and Gas Resources Management, said the agency has no application or request from Northstar Disposal — which still owns the well — to return it to active status.
An old pile of tires and a chain-link fence blocks the entrance to the site, where storage tanks have started to rust. Its idleness prompted the curiosity of Youngstown City Councilman Mike Ray to make an inquiry with ODNR about what was planned for it.
The well is in Ray's 4th Ward, and he wanted to know about the "risk factor of a nonoperational well."
"Basically, it's right in my neighborhood — I drive through the industrial park all the time," Ray said. "Apparently materials are still stored there, and I want to know who's monitoring that. It's one of those things I plan to keep following up on."
On July 22, Bruce emailed Ray to tell him the well site poses no threat. He did write in the email, however, that "approximately three feet of fluid" remains in each storage tank on the property to provide weight that prevents them from blowing over.
Bruce told The Vindicator on Friday that with "ODNR's knowledge and under our supervision, the owner began the process to empty and clean out the tanks at their cost."
He said 16 tanks are now on the property, each with a capacity ranging from 400 to 500 barrels of fluid. A barrel contains 42 gallons.
Shawn Bennett, a spokesman for the industry outreach group Energy InDepth, said as long as all the valves and nozzles on each tank were secure and up to industry standards, there was no threat of leaking.
Bruce said ODNR inspectors have been on site as needed or quarterly to examine the well and other equipment. He added that ODNR will continue to do so until the agency receives a request and grants a permit to plug and abandon it.