Yuhases celebrate 60th with Mass and dinner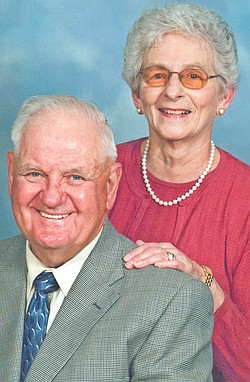 Photo
Mr. and Mrs. Eugene S. Yuhas
STRUTHERS
Mr. and Mrs. Eugene S. Yuhas of Struthers celebrated their 60th wedding anniversary Aug. 3 with a Mass at Holy Trinity Church.
A dinner followed at the home of their daughter and son-in-law, Roberta and Timothy McCoy of New Middletown, that also was hosted by their other children, Elizabeth (Steven) Budd of Dayton; Steven (Maureen) Yuhas of Kettering, Ohio; and Kevin (Antoinette) Yuhas of London, Ohio. They have six grandchildren.
The former Rosemarie Wittenauer married Mr. Yuhas on Aug. 8, 1953, at St. Patrick Church in Hubbard.
The couple are members of Christ Our Savior Parish at Holy Trinity Church.
Mrs. Yuhas was an auxiliary clerk and secretary for Struthers Board of Education and retired in 1996. She is a member of Infant Jesus of Prague Guild.
Mr. Yuhas worked as a driver for Anderson Delivery Service in Youngstown for 24 years and as a trainman for Republic Steel/WCI Steel in Warren for 18 years. He retired in September 1990.
He was a member and president of Jednota Branch 259 and was a U.S. Army veteran serving from 1950 to 1952.