Piergiovanni's 65th anniversary marked by family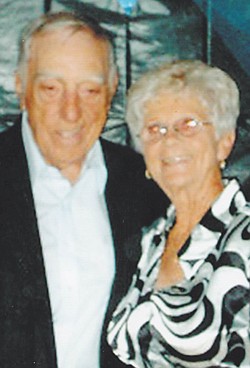 Photo
Mr. and Mrs. Peter Piergiovanni
AUSTINTOWN
Mr. and Mrs. Peter Piergiovanni of Austintown celebrated their 65th wedding anniversary July 24 during a private celebration with their family in Austintown.
The former Elizabeth Breddemann and Mr. Piergiovanni were married July 24, 1948. They met in Germany during World War II.
They have no children.
Mr. Piergiovanni served with the U.S. Army 17th and 101st Airborne Divisions, where he engaged in combat in France, the Battle of the Bulge in Bastogne and Houffalize, Belgium, and in Germany. He was awarded the Silver Star.
He retired from U.S. Steel in 1975 after working for 36 years, where he had been a crane operator and worked in its safety department.
The couple owned and operated Mahoning Nursery on South Avenue until 2000 and were in business for 30 years.
They have been members of the Youngstown Maennerchor since 1966.
Mr. Piergiovanni is a member of the Disabled American Veterans.
They spend extended winters in Fort Myers, Fla.