7 Hispanic countries represented at 2013 OCCHA fest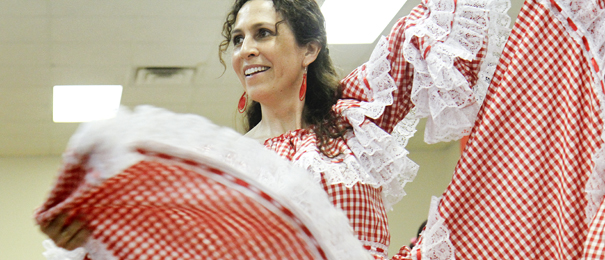 ---
By WILLIAM K. ALCORN
alcorn@vindy.com
YOUNGSTOWN
Pity the pig.
Roast pork, or pernil asado, a traditional dish in Hispanic countries, was in high demand at Organizacion Civica y Cultural Hispana Americana's second annual International Latino Food Fest.
Seven of the 22 Hispanic countries of origin were represented at Friday's event, a fundraiser for OCCHA's educational programs, at the agency's headquarters at 3660 Shirley Road on the South Side.
Countries represented on the food line were Colombia, Cuba, Dominican Republic, Mexico, Peru, Puerto Rico and Spain, said Susan Nieves, OCCHA executive director and chief executive officer.
Nieves, who said she really likes the roasted pork, said about 1,000 attended the food fest in 2012, and food was prepared for the 1,500 expected to attend this year's event.
Entertainment, cultural demonstrations such as an old-fashioned pig roast outside, traditional dance and music, pinata, raffles and face painting also were part of the event.
"This is a tremendous opportunity to showcase our culture and cuisine to the entire community," said Hector Colon, Youngstown's first Hispanic fire chief, who said roast pork is also his favorite dish.
Also on the dinner menu were arroz con pollo desmenusado (rice with shredded chicken) and pollo asado (grilled chicken).
A la carte offerings included paselon de papa y carne (potato and meat casserole) from the Dominican Republic, bacalaitos (codfish fritters) from Puerto Rico, and tamales (corn dough wrapped around various fillings) from Mexico.
Postres (desserts) included quesitos (cheese-filled pastry twist drizzled with honey), mousse de maracuya (passion fruit mousse) and budin de pan (bread pudding).
Educational programs for youths and adults are offered by OCCHA, which is the city's primary Hispanic social-service agency.
For students age 5 to 17, there is an after-school program that will focus on mathematics and literacy, a summer day camp, career orientation, mentoring and cultural activities.
The OCCHA center benefits by having youths help with cleanup and in the office supplied by the Mahoning County Job and Family Services Work Experience Program. Center funding sources include state, federal and local grants, Community Development Agency, Youngstown City School District, foundation and private donations, fundraisers and a membership drive.
"Our mission is to improve the quality of life for Hispanics and others in our multicultural community by providing social, economic, cultural and educational programs," Nieves said.