Seeking ancestor's history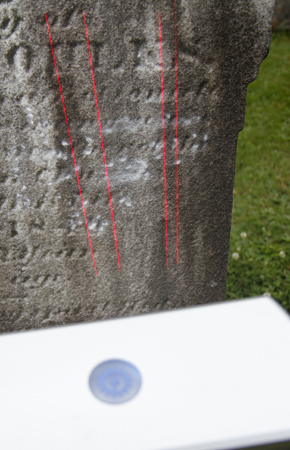 ---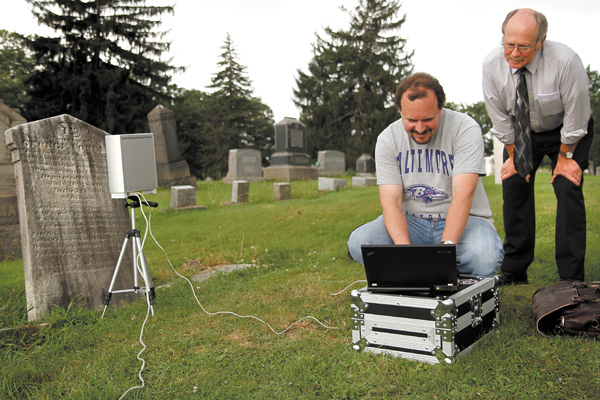 Photo
Matt O'Mansky, left, a Youngstown State University associate professor, and Jerry Ward look at the results of a scan from the eroded tombstone of George Foulkes. O'Mansky is using the scanner to try to make out the words on the tombstone in Glenview Cemetery in East Palestine.
By DENISE DICK
denise_dick@vindy.com
East Palestine
Jerry Ward of Columbiana learned a couple of years ago about a distant relative buried in Glenview Cemetery.
George Foulkes (also spelled Foulks in some references), who was Ward's relative by marriage, was born in 1769 and was captured at age 11 by Native Americans while he and his siblings were tapping trees for maple syrup. His older brother was killed.
Ward, who majored in history at Kent State University, researched more about Foulkes, who lived with his captors for 11 years and married a Native American woman before escaping and returning to live with whites. He married a white woman, Catherine Ullery, in 1796. Foulkes died in 1840.
Catherine Ullery was the daughter of Revolutionary War veteran Henry Ullery, who was a German sea captain and Ward's sixth-great grandfather. Henry Ullery is buried next to Foulkes.
Details about Foulkes' life were carved into the gravestone upon his burial, but time and the elements have eroded much of the writing.
Foulkes' birth date, date of death and "Presbyterian" remain legible, but most of the rest isn't.
Ward wants to know more.
"He was really a character," he said. "He spent time with Sam Brady's Rangers, and he met Johnny Appleseed."
After trying to decipher the text by taking a rubbing from the stone proved unsuccessful, Ward contacted Matt O'Mansky, associate professor, and Tom Delvaux, part-time faculty member, both from Youngstown State University's Department of Sociology, Anthropology and Gerontology, for assistance.
Earlier this week, the two professors lugged a computer, generator, tripod and scanner to the cemetery to scan the stone to see if more of the etching could be read.
The scanner, propped on a tripod in front of the stone, probed the stone, sending pictures back to a laptop. The first reading yielded bits and pieces of text, but O'Mansky plans another trip with different equipment to try again.
O'Mansky sprayed powder onto the stone to try to aid the process, allowing it to adhere to the recesses of the etched letters.
"If we can read it, minimally, we'd like to give a copy of it to the cemetery," Ward said.
Ward, his wife, Cheryl, and his sister, Nancy Farmer of Columbiana, also would like a copy for themselves and other family members.
Depending on the cost, they would consider replacing the stone, he said.