Long-time owner, bookkeeper retire from Elmo Tire Center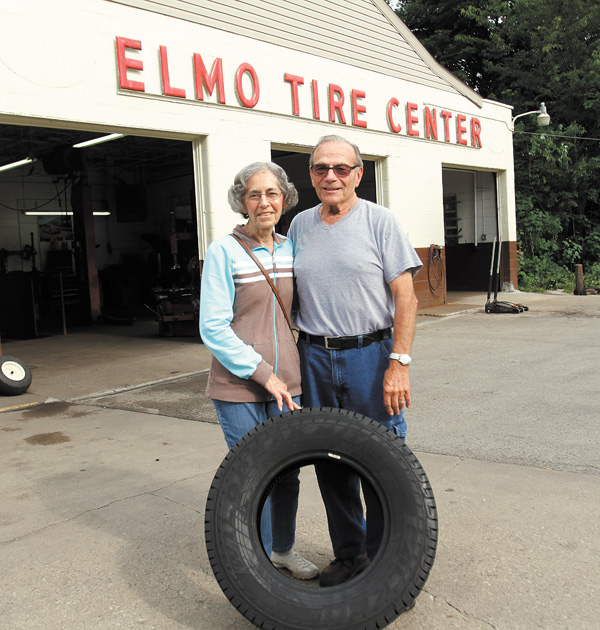 ---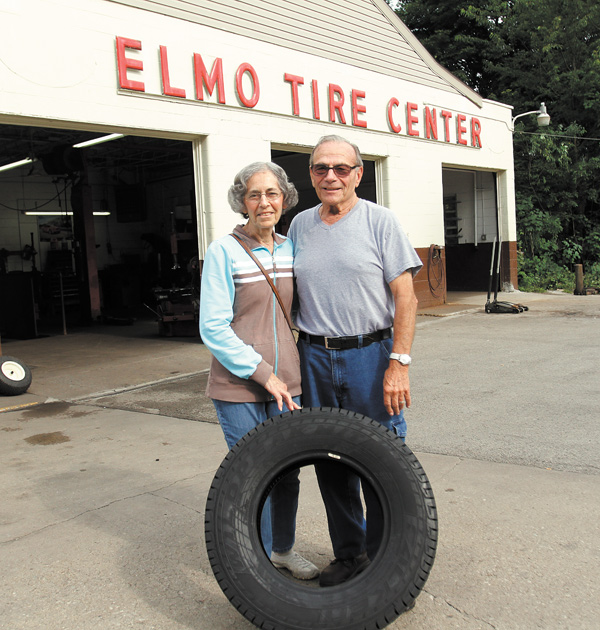 Photo
Jo-Ann and Anthony "Sonny" Elmo recently retired from Elmo Tire Center after working for several decades at the Loveland Road business. In 1956, Sonny purchased the shop from his father, and Jo-Ann became the company's bookkeeper.
By EMMALEE C. TORISK
YOUNGSTOWN
Jo-Ann and Anthony "Sonny" Elmo are having a little bit of trouble letting go.
It's understandable, though.
For nearly six decades, the pair have dedicated most of their days — and nights — to Elmo Tire Center, the Loveland Road business now specializing in shocks, brakes, alignment and balancing that Sonny purchased from his father in 1956.
It was a place that Sonny had worked for at least a decade prior, often with his brother, Bill, as well as the way he met Jo-Ann: In 1953, she was waiting at the bus stop across the street. They were married a year later.
But, within the past year, Sonny and Jo-Ann, who are 83 and 78 years old, respectively, decided that the time had come to start taking it easy, or at least easier than they had been.
This month, they turned the business over to the third generation of owners: their son and daughter-in-law, Tony and Susan Elmo.
"They're both capable," Sonny said. "Tony is very honest — exactly like my father, my brother and myself."
"You wouldn't be able to sleep at night if you weren't," Jo-Ann added.
Like Sonny, who began helping out at his father's service station in 1942 at age 12, Tony has grown up around the family business. So did most members of his family, including his brother, John Elmo, and his sisters, Patti Bartholomew and Kathy Carlson.
This year, Tony said, marks his 40th as a full-time employee, even though he started to regularly come into the shop with his father years earlier to sweep up and chat with workers.
From those early days, Tony said, he learned from his father always to be honest and fair, treating customers as he would want to be treated. It's a simple approach, but an effective one, he added.
"We haven't advertised in the last couple of years, because we've been so busy," he said. "I want to just run it the same way he has. It's worked all these years, so why change?"
Sonny said he knows Elmo Tire Center will be in good and knowledgeable hands, but added that he'll still try to open up the shop for his son in the morning — and will likely beat him there, arriving by 7 a.m. to unload the first truckload of tires.
And though Susan has worked in the office for eight years, Jo-Ann, who has been the company's bookkeeper for 57 years, said she plans to stick around "for a little while" to help her daughter-in-law become more familiar with the ins and outs of Elmo Tire Center.
Such commitment over the years, Sonny said, has given the business a reputation for "reliable, good work," which attracts long-standing customers from not only the immediate area but elsewhere, such as Mount Pleasant, Pa., and Columbus.
"The business has been very successful all these years," Sonny said. "Our customers are friendly, they trust us, they come back, and they appreciate the different little things you do for them. They're loving, caring, good people — that's what you find in Youngstown."
Elmo Tire Center has been in its current location since 1952, but it's an area that has been "slowly deteriorating" over the years, Sonny said.
In 1999, the building caught fire, causing more than $300,000 worth of damage and closing the business for several months. It would have been easy then to leave and move to perhaps a better location, Sonny said, but the family chose to stay.
"The fire knocked us down, but it didn't put us out," Sonny said. "I never thought about going anywhere else. We're in Youngstown. We're in this Valley. We're very fond of it. It's home."