Inasmuch Day based on scripture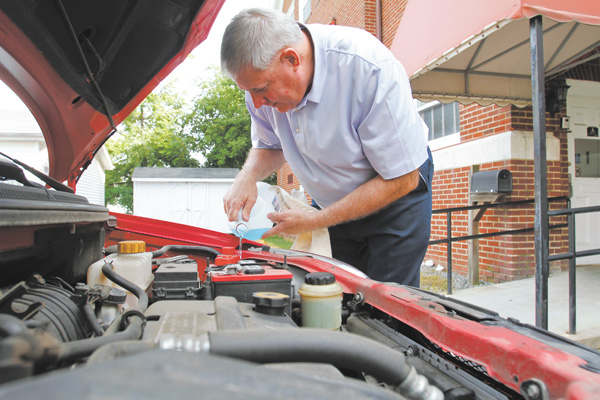 ---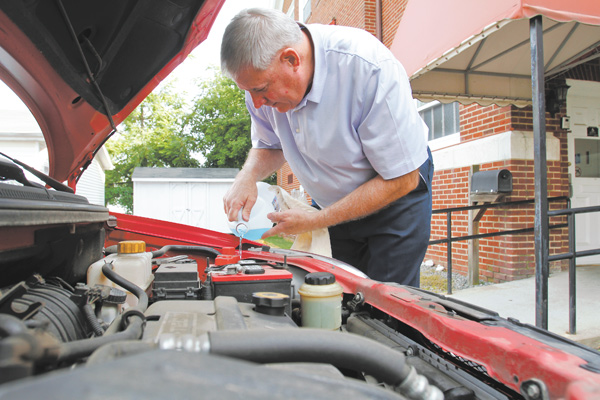 Photo
Pastor Ron Maurer of First Christian Church, 140 E. Broadway, Girard, pours windshield wiper fluid into a car just as he will be doing during Inasmuch Day from 10 a.m. to 1 p.m. Saturday. The pastor and a couple of other men from the church will check fluids in cars as part of their day of community service.
By LINDA M. LINONIS
linonis@vindy.com
GIRARD
Inasmuch Day is inspired by a passage from Scripture.
"Verily I say unto you, inasmuch as ye have done it unto one the least of these my brethren, ye have done it unto me" is from Matthew 25:40. It refers to the belief that doing a good deed for a person in need is the same as doing it for Christ.
Pastor Ron Maurer of First Christian Church said some Disciples of Christ congregations in the Valley sponsor such a day, when the church members help less fortunate members of the community. First Christian is in its fourth year; it worked with Central Christian Church in Warren the first year.
Pastor Ron said the activity of service goes hand-in-hand with the church motto, "We care because God cares."
"It's a worthwhile day," he said. "It's been a blessing for us."
The pastor said his congregation, which has about 50 worshipping on a Sunday, supports the activity through volunteering and donations.
"Everyone always says they get more than they give," he said. He added that "the smiles" are the best reward for church members. "There's an attitude of appreciation that you can't beat."
Pastor Ron said First Christian, as with other churches, has noticed an increase in need. "People are hurting. They need help."
Earlier this week, Joyce Faiver, Beth Monroe, Barb Planton and Donna Stark were sorting and folding clothes for the giveaway. The women said the Scriptural basis of the day fits well with the mission-minded church.
"People are very supportive of the outreach though we're a small church," said Stark, a member for 59 years.
Planton, who has belonged for 45 years, added the church supports national and international missions, but it also was nice to do something in the community. Congregants donated clothing, non-perishable food items and money to buy school supplies.
Faiver, a 38-year church member, said she liked the activity because it makes First Christian part of the bigger picture of helping people. Monroe voiced a feeling felt by many — "I like helping people." That's why one of the younger volunteers, Elizabeth Potts, 10, is involved.

Stark said she and a friend, a former teacher, shopped the sales of school supplies. Notebooks, folders, pencils, scissors, glue, rulers and erasers will be among items to be distributed. "We'll let them pick what they need."
An alphabet bingo also will be played with food prizes. It will start with A for applejacks, B for bananas and so on, Stark said.
Pastor Ron said he and a couple other men will be checking fluids on cars. They'll add windshield wiper fluid if needed. For oil, brake and transmission fluids, they'll tell the driver if something needs to be filled. Tire pressures also will be checked. The wrong pressure, the pastor said, costs money in gas.
Elder Brian Force of Lordstown Christian Church said this year's projects are the fourth year for Inasmuch Day. "We're a small church but we want to do living and breathing activities outside of church walls," he said.
He said church members believe by helping those in need they are following God's command and sharing His love. "It's about giving people a leg up and hope," he said. "People do care."