Canfield softball team rained out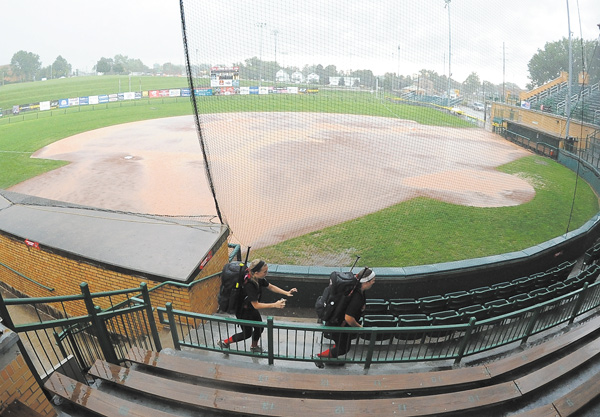 ---

Photo
Canfield players Ally Sammarco, left, and Jenna Gibson, right, sprint for cover from a downpour that postponed their game Wednesday at Firestone Stadium in Akron.
By Tom Williams
AKRON
The two best Junior League softball teams in the Midwest were locked in a pitchers' duel when Mother Nature threw the ultimate curveball — a 19 1/2-hour rain delay.
Canfield (Ohio's champion) and South Portage (Michigan) were tied 0-0 in the regional tournament championship game for 13-14-year-old teams Wednesday at Firestone Stadium and were getting ready to begin the third inning when the rain picked up.
Both teams sought shelter in the stands and watched the infield turn into a muddy quagmire over the next 20 minutes. Junior League officials then postponed the game until 9 a.m. today.
At stake is a trip to the Junior League World Series, which begins Sunday in Kirkland, Wash.
"I just wanted to get it over with because it's so overwhelming," Canfield center fielder Maura Kennedy said of the intensity. "So nerve-wracking."
When the rainfall was light, left fielder Bridget Sweeney said she thought "we were going to play through it. I thought it might blow over.
"But when I saw the puddles, I figured they were going to call it."
Sweeney admitted she was a little frustrated.
"I want to play," Sweeney said. "It's exciting — I've never made it this far, so I want to play."
The core of Canfield's team were members of last year's Little League (ages 11-12) state champion which lost to Indiana in the regional title game.
Canfield starter Bridget Durkin and South Portage's Hannah McQueen were dominating. In South Portage's first at-bat, Durkin needed just five pitches to get three outs.
Both teams had scoring opportunities in the second inning. With one out, South Portage's Paige Poulter doubled when she hit the ball over Sweeney. Durkin escaped by getting Briana Totten to pop out and Lexie Hughes to ground out, both to second baseman Ally Sammarco.
With two outs in the second inning, a dropped fly ball in the outfield allowed Mia Kindinis to reach second base. But she was stranded when McQueen retired the next batter on a popout.
Kennedy said she wasn't surprised the game was called.
"The field started flooding before the announcement," said Kennedy, who expects to be awake by 6:15 this morning to get ready. She says she's an early riser when necessary.
"For this, I can do it," Kennedy said.
Canfield manager Kerry Durkin said the delay has given him a homework assignment.
"I used my best speech this morning, so I've got to get another one going," he said.
Canfield and South Portage went 3-0 in pool play, then won semifinals on Tuesday.
Durkin isn't surprised McQueen was keeping most of his batters off the bases.
"She's pretty good," Durkin said. "It's going to take us a couple of more at-bats to get her timed."
Canfield is undefeated after competing in the Tri-T Pony League and winning the district and state tournaments. Durkin believes his batters are up to the challenge.
"[Catcher] Amelia [Manenti] hit a nice shot to center that they caught," Durkin said. " I think we were starting to get our feet under us."