Austintown Night Out unites community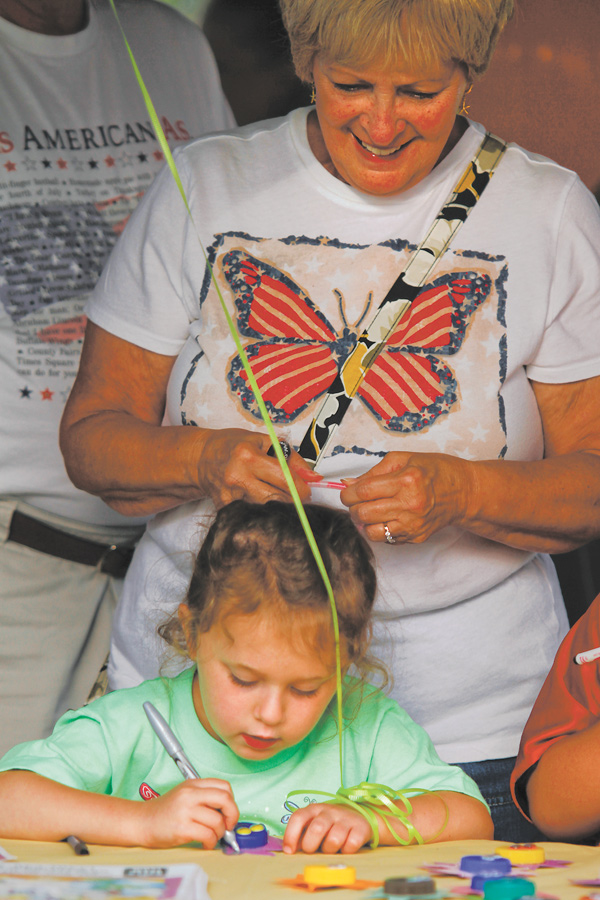 ---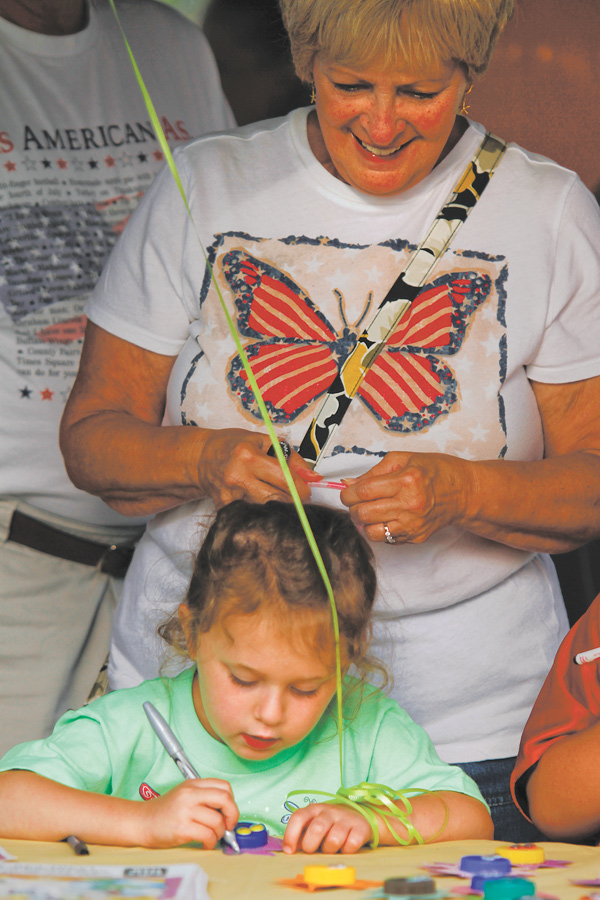 Photo
Diane Barnett of Austintown watches her granddaughter Savannah Cervone, 5, make a craft at Austintown Night Out in the township park. Free hot dogs, balloons, a bouncearound, firetruck and other emergency vehicles were some of the other activities.
By kalea hall
AUSTINTOWN
June Galbraith and Shawne Wilfong hope hosting Austintown Night Out will encourage their fellow residents to consider joining a block watch.
Officer Jeff Toth of the township police department wants residents to know police need their help in preventing crime.
Austintown Night Out at the township park Tuesday was the first time the community has joined in on National Night Out since the 1980s.
"We are trying to build awareness," Toth said. "We can't do this job alone. We need citizens to be aware."
The National Night Out event is a part of a movement to get citizens interested in what is happening in their neighborhoods and for neighbors to meet neighbors. Austintown used to be a part of the event in the 1980s, but eventually a majority of the township block-watch programs ended. Galbraith and Wilfong run the Wickliffe Block Watch, the only active block watch left in Austintown.
"We want residents to stand up and do this," Toth said. "[The block watches] want to keep their neighborhoods safe."
Wilfong, who has lived in Austintown all her life, and Galbraith, who has lived there for eight or nine years, both joined the block watch after some minor crimes occurred in their neighborhoods. The two still meet to talk about what is happening in their neighborhood and others. At one point, the group had about 35 members, but now it is just Galbraith and Wilfong running the program.
"I understand that they are afraid because [others] might retaliate," Galbraith said.
For several years, Galbraith and Wilfong had a block party, but Toth encouraged them to host a Night Out instead.
"It is important to keep the community aware of what is going on," Galbraith said.
One of the main priorities at Tuesday's event was for the children who attended to have fun. Free hot dogs, balloons, face-painting, a bounce-around, dunk tank, firetruck and other emergency vehicles were just some of the activities.
"Our first [priority] was to get the community here, and to get the community here you have to get the kids here," Galbraith said.
Toth works as a Drug Abuse Resistance Education officer for the Austintown School District and showed off his DARE cruiser at the event.
"I want to try to honk the horn," David Dorris, 7, politely said to Toth.
David smiled as Toth posed for a picture with him sitting in the driver's seat, honking the horn.
"I like kids and I think kids need good role models," Toth said.
Austintown Township Trustee Jim Davis said being a part of National Night Out makes it possible for residents to gather with police and administrators in a fun atmosphere.
"Our police are there to help," Davis said. "[The event] builds a relationship between law enforcement and the community."
If interested in joining or starting a block watch in Austintown, contact Toth at the police department.