Spinners bullpen muzzles Scrappers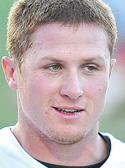 ---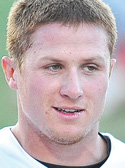 Photo
By Steve Ruman
Niles
Lowell pitcher Jamie Callahan entered Tuesday's game against the Mahoning Valley Scrappers on a major roll.
Six days ago at Auburn, Callahan threw six perfect innings, throwing just 71 pitches. He retired all 18 batters he faced without a walk, striking out a career-high nine batters.
Two starts ago, the righty also faced the minimum 18 batters in six innings, surrendering just one hit.
This time, Callahan was far from perfect. He surrendered three runs and didn't make it out of the fifth inning.
Unfortunately for the Scrappers, the Spinners' bullpen was flawless.
The result was a 4-3 Lowell win in front of 3,259 fans at Eastwood Field.
Callahan surrendered a run in the fourth when Scrappers center fielder Cody Ferrell led off with a double, then came around to score on a double play.
The Scrappers took a 3-1 lead in the fifth. Catcher Martin Cervenka doubled with one out. After Ferrell walked, Claudio Bautista plated both runners with a double to center field.
"[Callahan] tried to throw a lot of fastballs, and we knew that's what he would do," Ferrell said. "Some of his pitches were flat and straight, so that led to us getting some good wood on the ball."
The Spinners scored their first run in the fourth on an RBI base hit by Tzu-Wei Lin. They scored a pair of runs in the sixth to tie the game at 3-3. The inning included doubles by Lin and Danny Bethea, but the Scrappers were really hurt by errors from Ferrell and right fielder Joel Mejia.
"Errors are part of the game, but you always hate it when they eventually play into the outcome," Ferrell said. "Those mistakes helped [Lowell] put up some runs. It's frustrating, but it happens."
Lowell scored the game-winning run in the seventh off Scrappers reliever Harold Guerrero. After surrendering a leadoff single to Nick Moore, Guerrero walked three batters. The third, issued to Bethea, pushed the decisive run across the plate.
Meanwhile, a trio of Lowell relievers worked 41/3 innings without giving up a hit. They combined to record eight strikeouts. Joe Gunkel earned his fourth save when he struck out the side in the ninth.
All Stars
Earlier this week, the New York-Penn League announced its All-Star Game rosters.
Eighteen position players and 10 pitchers will represent the American and National League squads in the NYPL all-star tilt, played next Tuesday at Dodd Stadium in Norwich, Conn.
The American League roster features five Scrappers, including two starters: Nellie Rodriguez (first base) and James Roberts (shortstop). Bautista (second base) and pitchers Luis Lugo and Matt Whitehouse were named as reserves.
Rodriguez leads the Scrappers in batting average (.320), home runs (7) and RBI (30).
LOWELL 4, SCRAPPERS 3
LowellScrappers
abrhbiabrhbi
Allday cf2110Mejia rf4010
Lin ss5121Bautista 3b4012
Mager lf4000Roberts ss3000
Bethea dh4022Rodrgz 1b4000
King rf4000Hendrix 2b4000
Witte 3b1000McAdams lf4010
Asuaje 3b1000Romero dh3000
Lopez 2b3000Cervenka c2000
Moore 1b3110Ferrell cf2210
Sopilka c4000
Totals314 63Totals31352
Lowell000102100—4
Scrappers001020000—3
E—Lin (11, fielding), Mathews (1, pickoff), Ferrell (2, fielding), Mejia (2, fielding). DP—Lowell 2, Scrappers 1. LOB—Lowell 9, Scrappers 3. 2B—Bethea 2, Lin, Ferrell (2), Cervenka (4).. HR—Roberts 1).
IPHRERBBSO
Lowell
Callahan 4.253321
McGrath W, 1-12.100004
Villarreal H, 1100001
Gunkel S, 4100003
Scrappers
Mathews421111
Sulser1.222233
Guerrero L, 2-1111121
Paredes2.110022
HBP—Witte (by Sulser). Umpires: Home, Mike Provine; Bases, Rich Grassa. T—2:46. A—3,259.