Published: Wed, August 7, 2013 @ 12:00 a.m.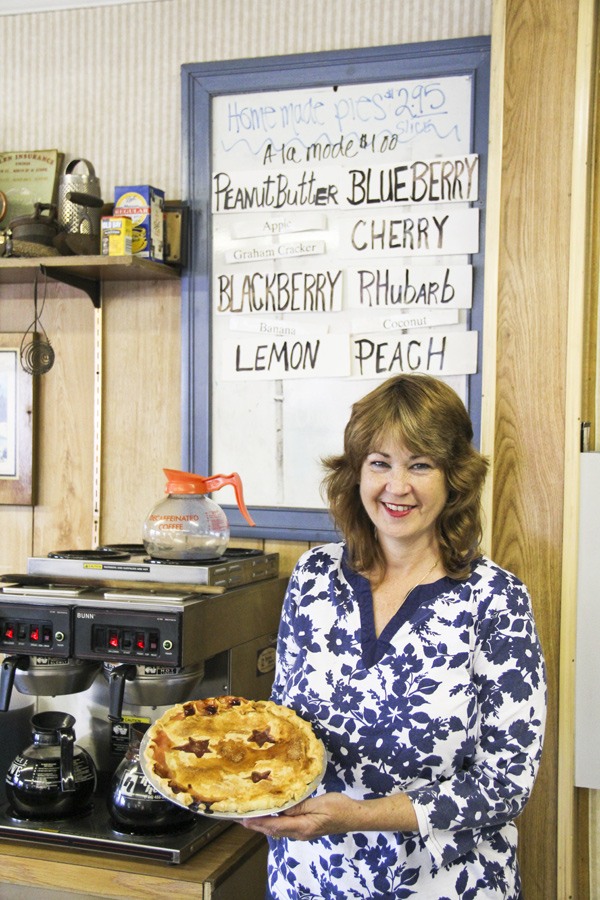 Photo
Carol Wilson, owner of Times Square
If You Go...
Where: Times Square Restaurant
Address: 8078 Main St. NE, Kinsman
Hours: 7 a.m. to 7 p.m. daily
For information: Call 330-876-3241
KINSMAN
Dining at Times Square Restaurant is sort of like having a casual home-cooked meal at Mom's place, complete with mashed potatoes, gravy and apple pie.
And, boy oh boy, is the pie delicious!
The choices include apple, rhubarb, blueberry, lemon, peanut butter, peach, coconut, gooseberry and graham cracker.
Owner Carol Wilson said the restaurant has always been famous for its pies.
"This place was opened in 1943 by Alice Blaemire, and Alice was known for her cooking, especially her pies," Wilson said, adding, "All the pies are homemade, and we use some of Alice's old recipes. Our crust is unique — we use a tad of vodka in it, believe it or not. I love old cookbooks and trying old recipes. Alice established a history here with her pies, and I've been able to keep it going."
After Blaemire passed away in 2004, the restaurant changed ownership, and in 2009 Wilson and her husband, Kenny, took over.
"I had never owned a restaurant before, but I always liked baking, and I didn't want to see the place close down," Wilson said. "My husband grew up in Gustavus, and we used to come here to eat and always liked it. There's a lot of history here."
Tucked away along state Route 7 just south of Kinsman's center, tiny Time's Square is as down-home as you can get.
Outfitted with a 1950s diner-style counter and booths, the restaurant is larger inside than it appears from the outside and can seat about 54 people.
Photos and paintings that reflect Kinsman's history line the walls, and servers speak to customers like they're old friends.
It's a place where locals come to shoot the breeze over a cup of coffee and a place where out-of-towners come to capture a little bit of country charm.
"There are older people who come in here who have been coming here for decades," Wilson said. "I know one retired couple who came here on their first date when they were 18."
Some of the menu's staple favorites include chicken pot pie, turkey dinner, Swiss steak casserole, meatloaf dinner and country fried steak. Each dinner comes with homemade clover-shaped rolls fresh from the oven — the same recipe that Blaemire used when she operated the place.
The chicken pot pie features a creamy vegetable-laden filling with chunks of white meat and a tender flaky crust.
The turkey tastes just like the kind on Grandma's Thanksgiving table, and the mashed potatoes are thick and hearty.
The restaurant serves breakfast all day, and pancakes come with pure maple syrup (when in season) and top-quality bacon.
"We buy local meat and local homegrown produce whenever possible," Wilson said. "This is not a chain restaurant, and you can taste the difference. We have what I like to call 'Mommy cooking' — nothing fancy, just homemade and good. It's like Thanksgiving every day."
Specials include chicken and biscuits on Monday and pork loin on Wednesday.
About Food:30
We are offering a glimpse into local restaurants and eateries by reviewing their food offerings. To recommend a location, send an email to society@vindy.com.