Michigan next for Ohio champions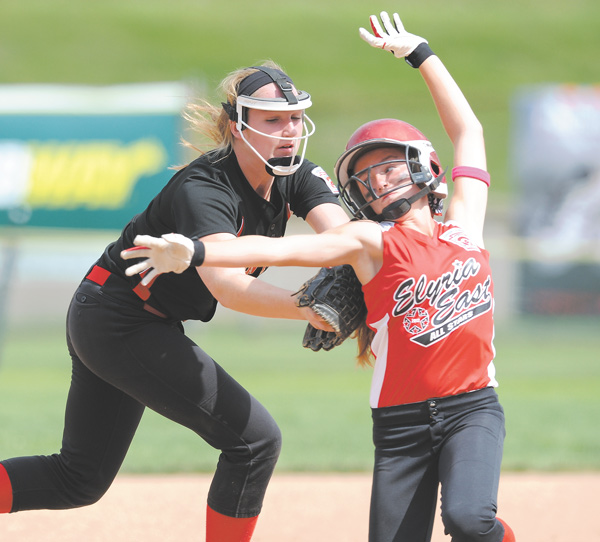 ---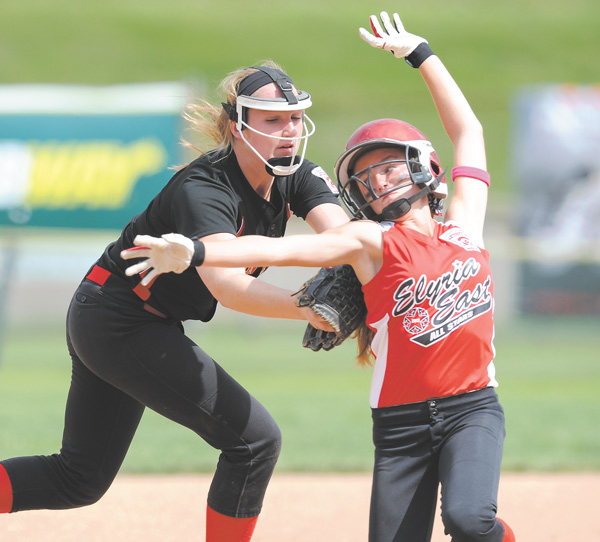 Photo
Canfield third baseman Maddy Johns tags out Elyria East's Macy Taylor during a 13-14 Junior League Softball semifinal Tuesday at Firestone Stadium in Akron. Taylor was advanced to third base after officials ruled Canfield's shortstop was in the baseline. Canfield won 9-2 to remain undefeated and advance to the final today against South Portage, Mich.
By Kevin Connelly
AKRON
The Canfield 13-14 softball team is one win away from its first trip to the Junior League Softball World Series in Kirkland, Wash.
Undefeated Canfield defeated Elyria East, 9-2, in the regional semifinals Tuesday at Firestone Stadium. Canfield will face South Portage (Mich.), the top seed from the other pool, today at 1 p.m. in the final.
"Michigan's a great team," Canfield coach Kerry Durkin said. "It'll be kind of like facing a mirror for a little bit."
Durkin said the Michigan players hit the ball well and have good pitching.
"We just have to stay loose and if we do that I think we'll be OK," Durkin said.
South Portage also is undefeated at the Junior League regional, having outscored its opponents 35-7 in round-robin play.
South Portage ousted Zionsville (Ind.), 12-8, Tuesday in its semifinal game.
Ahead by seven runs in the seventh inning, Canfield was cruising when the Elyria East bats came to life. With one out, Canfield pitcher Jenna Gibson allowed a single, a walk and another single to load the bases.
Kaylee Hummrich, Elyria's next batter, hit a sharp line drive at third baseman Maddy Johns, who snagged the ball then took one stride to step on third and complete a game-ending double play.
Johns heard a couple claps from Durkin and received a high-five from Gibson. But that's all the celebration Canfield's players showed.
They're not satisfied.
"I told the girls, 'I'll give you 15 minutes to enjoy this, but we haven't accomplished what we came here to do, and that's go to Kirkland, Wash.,' " Durkin said. "They're gonna enjoy this for a little bit and then come tomorrow we'll be ready to play."
Canfield went 3-0 during pool play of the Central Regional to earn one of the top two spots in the semifinal round. Canfield outscored its opponents 43-2, which was bad news for tournament host Elyria East.
In the bottom of the first inning, Canfield leadoff hitter Ally Sammarco took the first pitch the other way, dropping it into short right field.
Bridget Durkin laid down a sacrifice bunt, while the speedy Sammarco raced around second and slid safely into third base. The next two batters walked to load the bases before Sammarco scored on an error by the catcher on an attempted force play at the plate.
Durkin felt that series of events to start the game gave his team a lot of confidence.
"We never really looked back," Durkin said. "The girls really exhaled, relaxed and started playing their game."
Although Canfield left the bases loaded to end the inning, the team took advantage of shaky pitching to bat around in the order and score five runs in the second frame.
Winning pitcher Kayla Troxil scattered six hits over four innings and allowing one run. Durkin said he pulled her to make sure she would be available to pitch in today's championship game.
Gibson pitched the final three innings for the Cardinals, despite her final inning jam.
"Jenna got us through," Durkin said. "She was leaking oil a little bit at the end there, but she pulled it together and did great."
More like this from vindy.com
August 7, 2013 12:10 a.m.