Will fast-food protest spur higher minimum wage?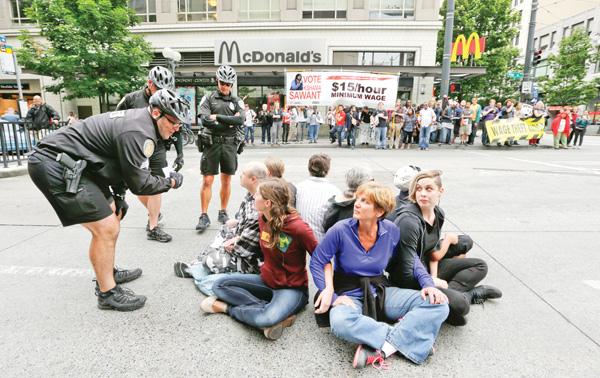 ---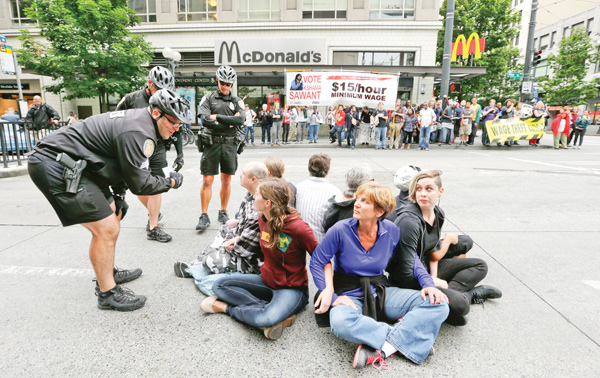 Photo
In this photo taken Thursday, a Seattle police officer leans in to explain the arrest procedure to a group of eight protesters blocking a downtown intersection in Seattle. Seattle police said they made several arrests at the demonstration protesting what marchers say are low wages and improper treatment for fast-food workers.
Associated Press
Terrance Wise has two jobs in Kansas City — one at a burger joint, a second at a pizza restaurant — but he says his paychecks aren't enough to buy shoes for his three daughters and insure his 15-year-old car. So he decided to draw attention to his plight: He walked off work in protest.
Wise was among a few thousand fast-food workers in seven cities, including New York, Chicago and Detroit, who took to the streets last week, carrying "Strike" and "Supersize Our Wages" signs in front of McDonalds, Wendy's, Burger King and other restaurants. They demanded better pay, the right to unionize and a more than doubling of the federal minimum hourly wage from $7.25 to $15.
"We work hard for companies that are making millions," the 34-year-old Wise says, adding that he lost his home last year, unable to make mortgage payments despite working about 50-hour weeks at Pizza Hut and Burger King. "We're not asking for the world. We want to make enough to make a decent living. We deserve better. If they respect us and pay us and treat us right, it'll lift up the whole economy."
These one-day protests, which also took place in St. Louis, Milwaukee, Seattle and Flint, Mich., come amid calls from the White House, some members of Congress and economists to raise the federal minimum wage, which last was increased in 2009. Most of the proposals, though, seek a more- modest rise than those urged by fast-food workers. President Barack Obama wants to boost the hourly wage to $9. And in July, more than 100 economists signed a petition supporting a bill sponsored by a Florida congressman that would hike it to $10.50 an hour.
The restaurant industry argues that a $15 hourly wage could lead to businesses closings and fewer jobs. It also notes the cost of living varies greatly around the country, and many states have higher minimum wages than the federal rate (18 states and the District of Columbia, according to the National Conference of State Legislatures.)
The Employment Policies Institute, which receives some funding from the industry, ran a full-page ad last week in USA Today, warning of another potential consequence: It showed the uniform of a fast-food worker with an iPad face, saying the wage increase could result in employees being replaced with automation, such as touch-screen ordering.
More like this from vindy.com