Tiratto gets the gold in his golden years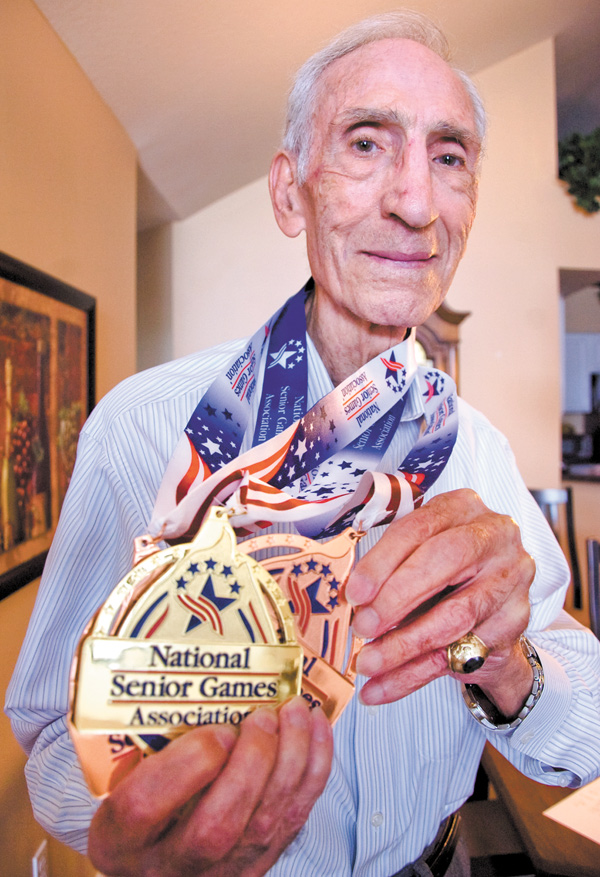 ---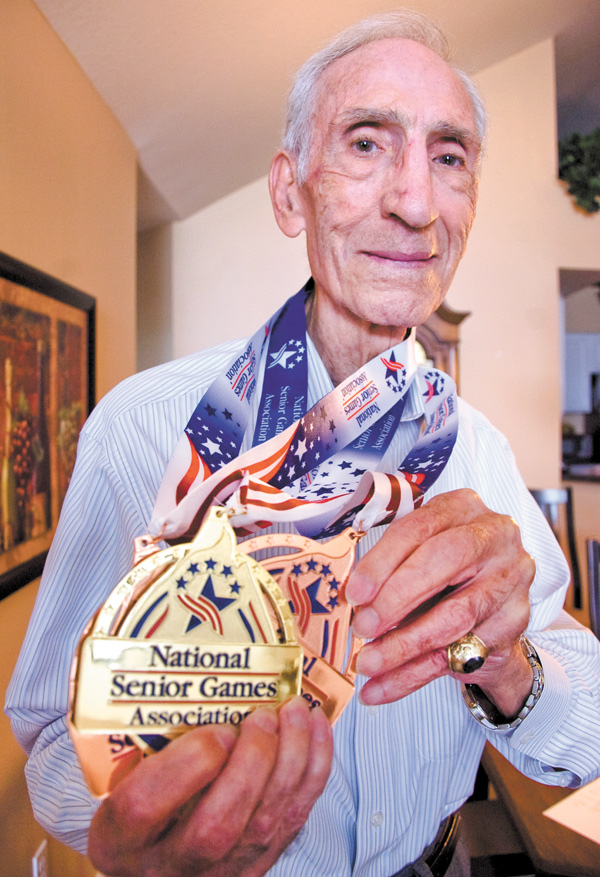 Photo
Bessemer, Pa., native Joe Tiratto, 87, wears the medals that he won while competing in the 2013 National Senior Games, which took place July 19-Aug. 1 in Cleveland. Tiratto's haul included a gold medal in singles pickleball, a bronze in mixed-doubles pickleball and a bronze in singles bocce.
By Ryan Buck
Columbiana
Mahoning Valley, here is your brief introduction to the sport of "Pickleball."
Played on a 20-by-40 foot court resembling a miniature tennis layout, it's a combination of tennis, badminton and table tennis.
The net is lowered just inches above the ground and players are equipped with oversized pingpong paddles the size of frying pans.
A spherical orb very much like a whiffle ball is used and points are won only by teams who are serving.
It was invented in 1965 at the home of future Washington state representative Joel Pritchard, who couldn't locate a shuttlecock, also known as a "birdie," for a game of badminton. He borrowed the whiffle ball from the family dog. Controversy persists over how the name, pickleball, originated.
Bessemer, Pa., native Joe Tiratto, says the sport is the fastest-growing in the United States.
According to Northeast Ohio Pickleball, 100,000 people play at 800 venues across the country.
Like most participants, Tiratto had never heard of the sport as he enjoyed his retirement outside Nashville. The sport found him.
He was exercising at the Williamson County recreational center when he peered into the window and saw a group of men organizing the peculiar activity. They set down painter's tape around the nets to form an unfamiliar diagram.
"I was in the gym at the time and it seemed like a very interesting game," said Tiratto, a lifetime physical fitness enthusiast who is always looking for a game of anything. He was given the rules and watched a few games. At his age, he thought it was a perfect way to stay in shape.
Tiratto, 87, joined several leagues in the Nashville area and played at least twice a week.
"It's a very good sport for seniors to stay active," he said. "It was easy to compete."
It gained cult-like popularity in small pockets of the country, like Nashville, but leagues and school gym classes have caught on.
"It's been growing ever since," Tiratto said.
He had been involved in the Tennessee Senior Olympics for the past five years. He added pickleball to his long list of events and, in June, participated in 11 sports.
There, he earned four gold and four silver medals that week, qualifying for the National Senior Games in Cleveland the following month.
He was always physically fit, especially during his two stints in the armed forces. Tiratto is a graduate of the U.S. Merchant Marine Academy and, after a brief hiatus, was commissioned as an officer in the U.S. Navy.
"I received quite a bit of physical training there," said Tiratto, who served in both World War II and the Korean War. "I got interested in keeping fit."
The Senior Games, however, were another chance to prove himself against others. He circled the dates on his calendar.
"It gave me more incentive to stay fit and keep exercising while being competitive," said the 1954 University of Michigan graduate. "I'm one of the oldest competing at the Senior Olympics"
With his niece, Columbiana resident Rosemary Eckman, looking on, he won his age group in the 85-89 year-old division in the pickleball competition.
His gold medal is merely the highlight of his awards haul from Cleveland.
He won two fourth-place ribbons in singles and mixed doubles badminton. He took home the bronze in bocce and teamed with friend and Chattanooga, Tenn., native Betty Case to win the bronze in mixed doubles pickleball.
He has encouraged his family, many of whom reside in northeast Ohio and western Pennsylvania to take up the game.
"They're happy I compete and they're quite interested," he said. "They're very glad to see me participate in sports and win the medals."
Tiratto says he has no reason to slow down.