Students 7-14 learn about slavery, causes of the war
---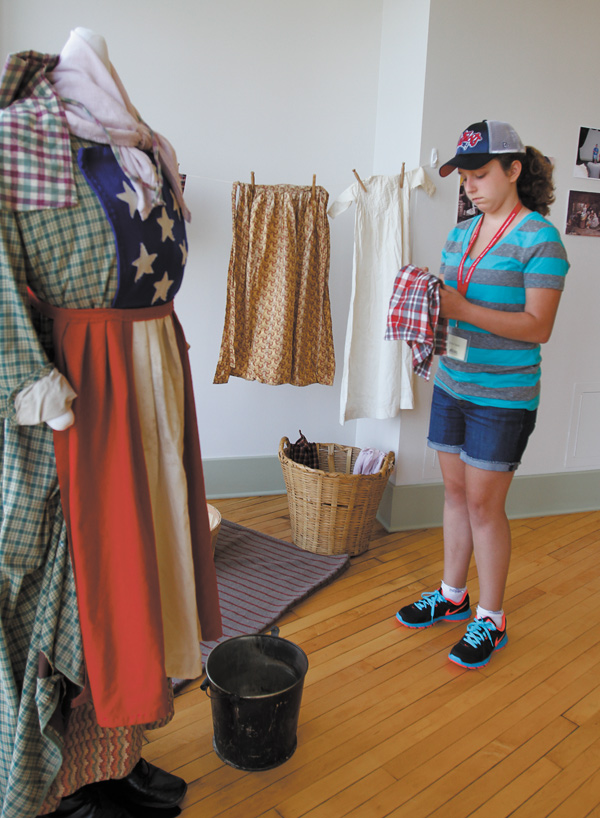 Photo
Alina Taylor, 13, of Boardman looks at Civil War-period costumes. This week, Alina is participating in the Mahoning Valley Historical Society's Turning Points Civil War Summer Day Camp.
YOUNGSTOWN
The Underground Railroad, the path north for slaves seeking freedom, and the assassination of President Abraham Lincoln are among topics students learn about at Turning Points Civil War Summer Day Camp.
Sponsored by the Mahoning Valley Historical Society for youths age 7-14, the camp began Monday and runs through Friday at the Tyler Mahoning Valley History Center in downtown Youngstown. It is the second such camp this summer celebrating and in remembrance of the Civil War. The Civil War began April 12, 1861, and ended April 9, 1865.
"It's a fun, interactive way to learn about the history of the Civil War and why it happened," said Alina Taylor of Boardman, who is going into the eighth grade at Boardman Center Middle School.
Alina, and her brother, Nick, 11, also a student at BCMS, who she said loves Civil War re-enactments, are among the campers learning about life and times of the Civil War era.
The year running up to the Civil War, 1860, was the most important year in U.S. history, Traci Manning, curator of education for MVHS and camp leader, told the campers.
During 1860, Abraham Lincoln was elected president, there was rising tension in the South, and Southern states began seceding from the union, she explained.
Manning, herself immersed in the Civil War, graduated from Gettysburg College in Pennsylvania with a major in religion and a minor in Civil War studies. She spent six years as a National Park Service Ranger, serving at Gettysburg National Military Park, Pa.; Harper's Ferry National Historical Park, W.Va.; and Vicksburg National Military Park, Miss.
A "living Civil War historian," she has numerous period costumes that she wears at events.
On Monday, the Civil War campers learned about the history of slavery and politics of the time, and role-played the election of Lincoln.
Today, the war starts.
Campers practiced military drills, were visited by a living history volunteer in uniform, and went on a field trip to the Civil War Monument on Federal Plaza.
Wednesday is civilian day, when they learn about struggles on the home front and tour the Arms Family Museum.
Medical history is the main topic Thursday along with a demonstration by a Morse Code expert. Camp wraps up with an interactive portrayal of Lincoln's assassination.
The goal is to have fun with history while learning about the Civil War and what it still means to the nation today, said Manning.
"The Civil War is probably the first time a group of people fought a war for the rights of another group of people," she said.