Tribe's Perez blows lead in ninth inning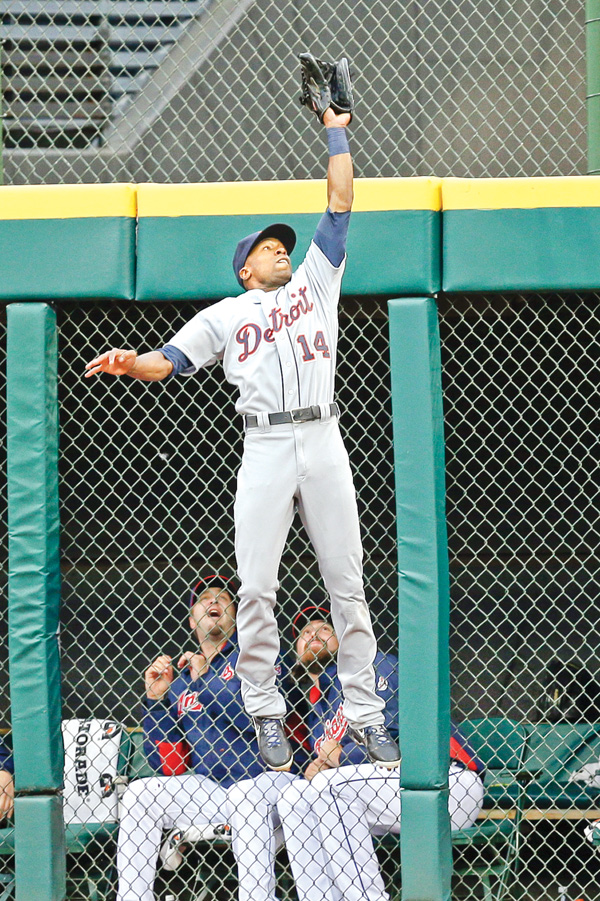 ---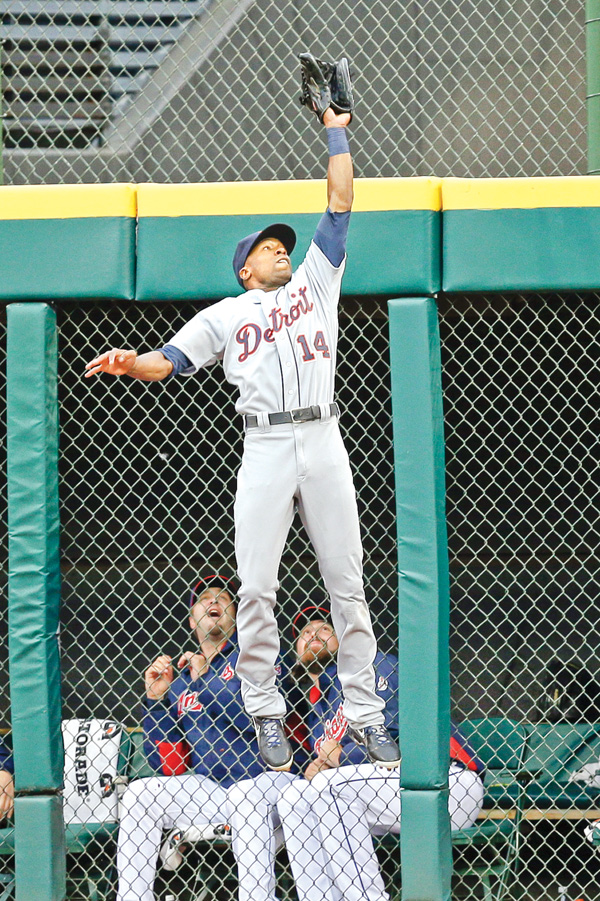 Photo
Tigers center fielder Austin Jackson makes a leaping catch in front of the Indians bullpen to rob Cleveland's Lonnie Chisenhall of a home run in the second inning of Monday's baseball game in Cleveland. The Indians were three outs away from downing the AL Central leaders when Alex Avila hit a three-run shot off Indians closer Chris Perez to boost Detroit to a 4-2 win.
Perez blows Tribe lead in ninth
Associated Press
cleveland
There was no whining, no finger-pointing, no excuses. On a day when they suffered a major loss before the game, the Detroit Tigers could have given in.
Instead, they came together. Like champions.
Alex Avila's three-run homer in the ninth inning off closer Chris Perez rallied the Tigers to their ninth straight win, 4-2 on Monday night over the Cleveland Indians.
A few hours earlier, the Tigers had learned they would be without All-Star shortstop Jhonny Peralta for 50 games after he was suspended by Major League Baseball for his association with Biogenesis of America, a Florida anti-aging clinic accused of distributing banned performance-enhancing drugs.
Detroit was three outs away from having its lead in the AL Central cut to two games by the second-place Indians before the comeback against Perez (4-2), who had converted 11 consecutive save opportunities.
"It feels good after all the stuff that happened before the game," center fielder Torii Hunter said. "We went out there and battled. We kept our focus and were professionals about it. We did what we're capable of doing."
After Victor Martinez's RBI single made it 2-1, Perez walked Andy Dirks before Avila drove a 1-0 pitch over the wall in left-center for his ninth homer, stunning a Cleveland crowd ready to celebrate the team's biggest win this season.
Manager Terry Francona had no choice but to relieve the controversial Perez, who sullenly walked to the dugout after not retiring a batter and heard only boos from Indians fans. Perez did not stick around after the game, leaving before he could be interviewed by reporters.
Al Alburquerque (2-2) got one in the eighth and Joaquin Benoit worked the ninth for his 13th save as the Tigers opened a little more distance over the Indians.
"It was a terrific game," Tigers manager Jim Leyland said. "We were fortunate enough to get a good closer. You don't get him very often, but tonight we did."
Detroit starter Anibal Sanchez struck out 11 in 72/3 innings, and was in line to take a tough loss before the Tigers stormed back for their 13th win in 14 games.
It was a demoralizing setback for the Indians, who fell to 3-10 against the Tigers this season and had their home winning streak stopped at 11.
"We gotta win those games," Indians center fielder Michael Bourn said. "That's how I see it. That's a tough team over there, granted. But that's a swing game. That's the top of the division. If we want to be at the top, we've got to be able to knock them out."
Cleveland's Corey Kluber had blanked Detroit's big bats for 71/3 innings and set the tone in a crucial four-game series before the Indians' problematic bullpen blew it.
The Tigers' rally started innocently enough with Price Fielder blooping a double into the left-field corner that Martinez followed with a single, cutting Cleveland's lead to 2-1. Pinch runner Hernan Perez came in for Martinez and Perez walked Dirks, setting the stage for Avila's big swing.
When Avila reached Detroit's dugout, as he was swarmed over by his teammates as the Tigers won for the ninth time in 10 games against their division rival.
After the game, Francona said this was a tough loss to take.
"It hurt, but we'll show up tomorrow," Francona said. "We certainly need to be resilient and we've shown that before. If we allow it to get in the way then we're not the team I thought we were."
The Indians took a 2-0 lead in the fourth on Carlos Santana's RBI double, a shot off the right-field wall that just missed being a two-run homer.
Jason Giambi's RBI single gave the Indians a 1-0 lead in the second,.