YSU freshmen Kelly, Wood open eyes early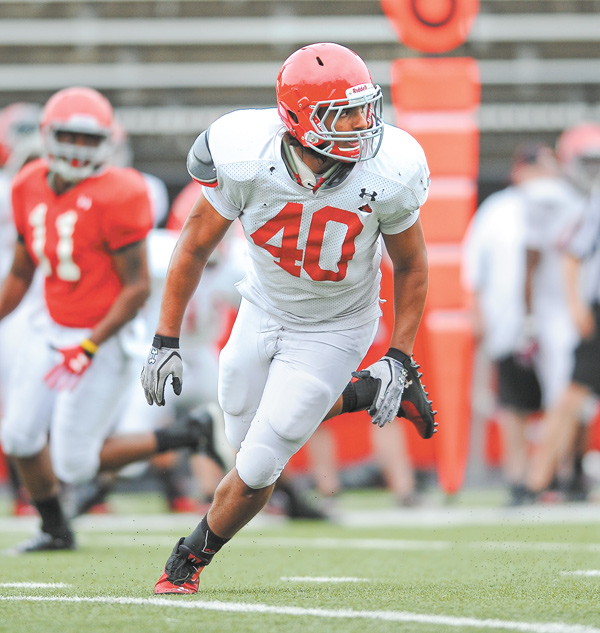 ---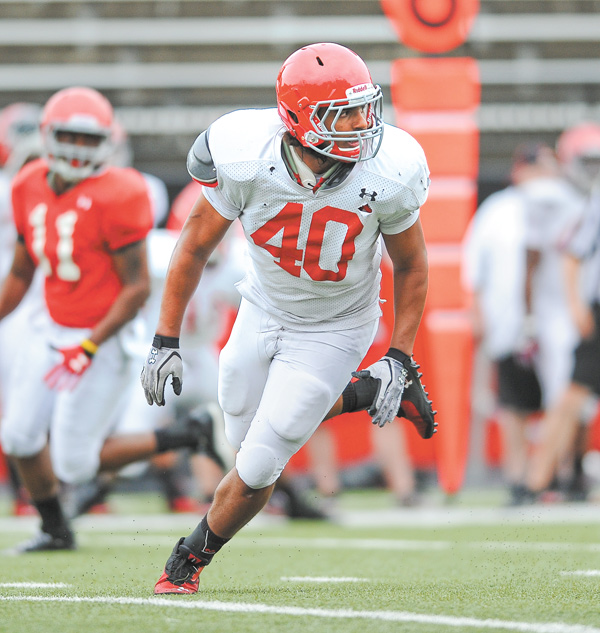 Photo
Youngstown State linebacker Jaylin Kelly (40) drops back in pass coverage during team drills Monday at YSU's Stambaugh Stadium. With fewer positions up for grabs this season, Kelly, a freshman, has managed to work his way into the backup inside LB role after just five practices.
Freshmen Jaylin Kelly, Jacob Wood move up YSU depth chart
By Joe Scalzo
Youngstown
Sign that Youngstown State's football program is headed in the right direction, No. 37: One of the early training camp storylines is about two true freshmen getting work with the second team.
"I think the thing is, we got a chance to finally grow," said coach Eric Wolford, who played 21 freshmen just two years ago. "We needed to marinate a little bit."
In 2011, YSU started freshmen at all three linebacker spots, including now-juniors Travis Williams and Teven Williams. (The third, Davion Rogers, left the team after that season.)
With fewer jobs up for grabs, it's impressive that freshman Jaylin Kelly has managed to work his way into the backup inside linebacker role in just the fifth practice.
"I've just been working hard, learning from the upper [class] guys, talking to my roommate [Teven Williams] about what I need to do and my assignments," he said. "The guys are bigger than in high school and the game plays way faster, so you've got to be more conditioned and you've got to be smarter. It's not just about athletic ability."
Kelly (6-1, 230) was a Class AA all-state linebacker at Washington High just outside of Pittsburgh. He had a school-record 114 tackles last season and played for Pennsylvania in the prestigious Big 33 Classic.
When asked what kind of player he is, he said, "I'm aggressive. I like to hit people. That's why I'm a linebacker."
Kelly is one of six incoming freshmen linebackers.
"I love that he likes to play the game," Wolford said. "He's a big guy, he runs very well and he's a physical inside linebacker, which gives us a nice presence we need.
"For him on basically Day 5 to move up to the second team is a good sign."
The same is true of tight end Jacob Wood, a 6-5, 230-pounder from Tallmadge who caught 38 passes for 578 yards and seven TDs last year to earn special mention All-Ohio in Division II.
"It's been an adjustment," he said of college football. "Everything is so much faster. Everybody is so much faster and a lot bigger and stronger.
"In high school, I was the biggest guy. And now? Not even close."
Senior Carson Sharbaugh and junior Nate Adams are entrenched as the starting tight ends, with junior Kintrell Disher still learning the position after moving over from wide receiver in the spring.
Wood said all three have been a huge help so far.
"They've been helping me with plays and assignments and stuff," said. "I'm really thankful for that. It's a learning process and there's a learning curve."
Outside of redshirt freshmen Brock Eisenhuth (at guard) and Jameel Smith (strong safety), who both had strong springs, there are no obvious freshmen candidates to earn starting spots.
But true freshmen like Wood, Kelly, cornerback Eric Thompson and safety Kenny Bishop are already showing they can step in if someone gets hurt — or complacent.
"These guys are pushing the older guys and it's made the upperclassmen better," Wolford said. "Competition always makes you better."
Notebook
Senior CB Dale Peterman injured his left knee and missed the second half of practice, but Wolford said he didn't expect it to be a long-term problem. When asked about it, Peterman said, "I'm good." ... Monday's practice was YSU's first in full pads.