Butler will uncork The Art of Wine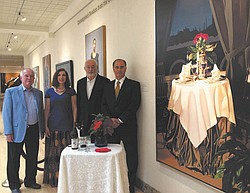 Photo
SPECIAL TO THE VINDICATOR Planning the Butler's Aug. 24 Art of Wine event are, left to right, Dan Tidrick, Butler board president; Renée Sheakoski, museum gift shop manager; Vincent Bacon, Butler trustee; and Tom Cavalier, managing director of Stifel Nicolaus.
Staff report
YOUNGSTOWN
The Butler Institute of American Art, 524 Wick Ave., will host The Art of Wine, a wine-tasting event, from 7 to 9 p.m. Aug. 24.
The event, sponsored in part by Stifel Nicolaus and Taylor Winfield Foundation, will offer fine wines and pairings, raffles and more. It is being presented in conjunction with the Ohio Wine Producers Association.
Among the participating wineries are:
• Barrel Run Crossing, Rootstown.
• Debonn Vineyards, Madison.
• Grand River Cellars, Madison.
• Ferrante Winery, Geneva.
• Harpersfield Vineyard, Geneva.
• M Cellars, Geneva.
• Markko Vineyard, Conneaut.
• St. Joseph Vineyard, Thompson.
• Firelands Winery, Sandusky.
For a complete list of wineries or to register online visit www.ohiowines.org. For information or to register by phone call 330-743-1107, ext. 210. Reservations are limited.
The cost is $35 per person or $50 per couple. Tickets will be mailed, and they must be presented to enter the event.
A limited number of tickets at a significant additional cost will be available for purchase at the door.