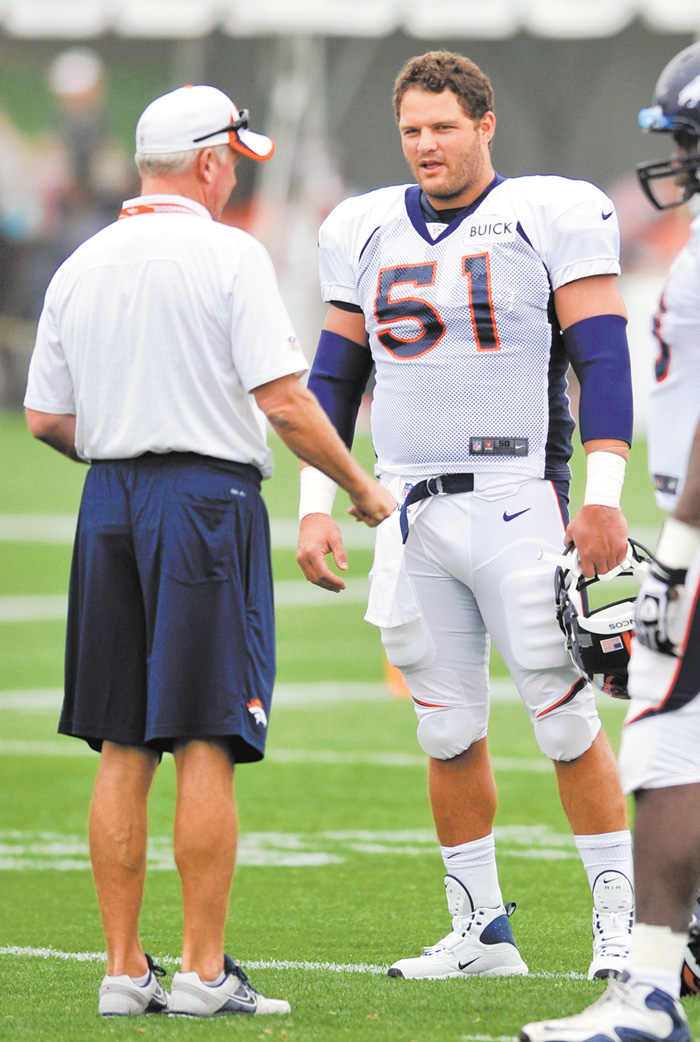 ---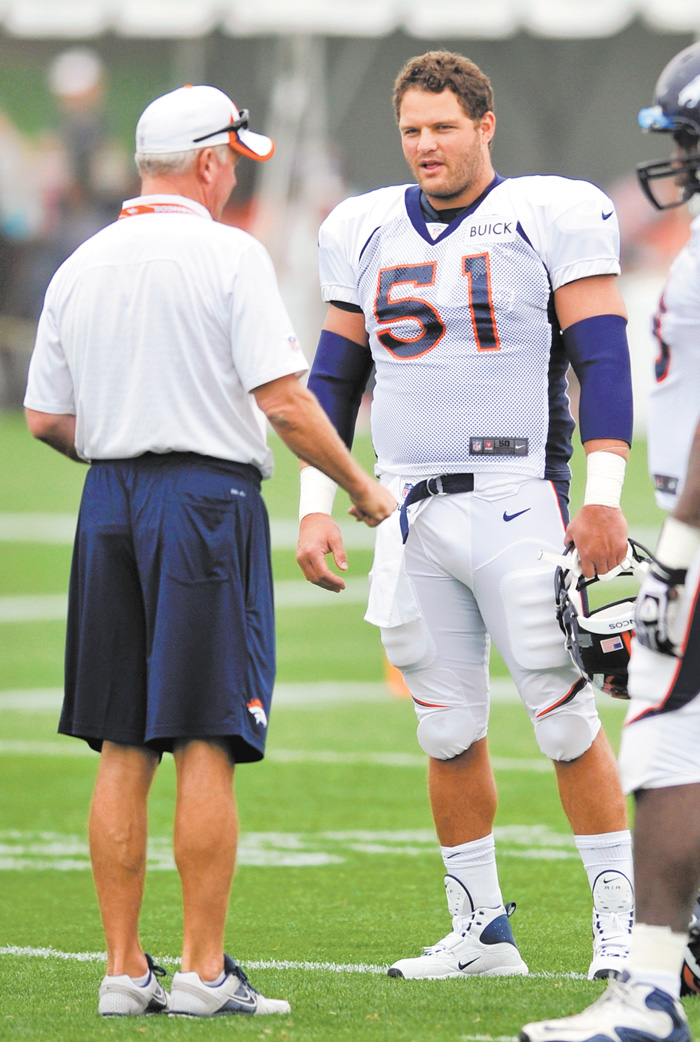 Photo
Boardman native Steve Vallos talks with Broncos head coach John Fox during training camp in Englewood, Colo. Vallos signed with the team last week and is hoping to extend his NFL career in Denver
Steve Vallos signed with Denver last week
By Joe Scalzo
On July 28, Steve Vallos was playing with his two kids in his Seattle home when he got the phone call he'd been waiting on for six months.
The Broncos had just lost their second center in a month when Dan Koppen suffered a season-ending knee injury and they had a spot available.
Was Vallos interested?
"I was on a flight that night," said Vallos, a Boardman High graduate, who spoke by phone Saturday. "The first thing I thought was, 'This is a great opportunity.'
"I didn't know if my career was over, and I didn't want it to be over. But in the NFL, it's usually not over when you want it to be over.
"My wife and I were hoping and praying for an opportunity, and I finally got one."
A seventh-round pick by the Seahawks in 2007, Vallos signed with the Eagles before last season after two frustrating years in Cleveland.
The Eagles cut him last Aug. 31, re-signed him on Sept. 18 when center Jason Kelce suffered a season-ending knee injury and released him again after two games.
He then signed with the Jaguars on Oct. 30, got cut on Nov. 3 and re-signed with the team on Nov. 5, appearing in the last two games, including a start in the season finale.
It was his first start since 2009 and, for awhile, Vallos wondered if it would finish his career.
"I was glad I got to play at the end and I thought I did well but that doesn't mean anything," Vallos said. "We were 2-14 and when the season ended, they fired the GM and a couple weeks later, the new GM fired all the coaches. They have a lot of young guys at my position there and they were looking to go younger."
Vallos and his wife, Lindsey, have a 2-year- old son and a 1-year-old daughter and he said the travel and uncertainty are harder on his wife than on him.
"It's more stressful for her, not knowing where I'm going to be that next week," he said. "The longer I've been in the league, the easier it is to deal with it. You understand it's a business and just because you got released doesn't mean you did anything wrong."
He also realizes how lucky he is to play with a future Hall of Famer like Peyton Manning.
"He's an unbelievable player, probably one of the smartest players I've ever been around," he said. "He's almost like a coach on the field. He just knows every in and out and wants to know what everyone is thinking so we're all on the same page."
Vallos is one of just 12 seventh-rounders from the 2007 draft still in the league. He knows he's not guaranteed a roster spot in Denver — the Broncos lured Ryan Lilja out of retirement on Wednesday — but he's happy to have another chance.
"It's been a whirlwind," Vallos said. "My agent talked to a lot of teams and no one was ready to sign me, but a lot of teams were saying I was on their short list in case something happened to one of their players.
"But this is just like any other year. Training camp is always an uphill battle for me and I've got to do what I can to show what I can do and let the chips fall where they may."