Couches, family mark milestone at Dutch Village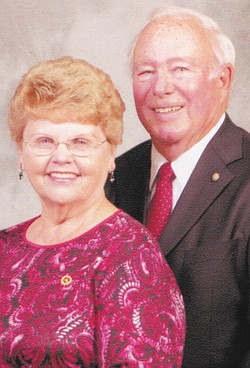 Photo
Mr. and Mrs. Thomas Couche
COLUMBIANA
A celebration Aug. 3 in the Legacy Room of Das Dutch Village Inn in Columbiana honored Thomas and Barbara Couche of Columbiana for their 50th wedding anniversary.
The event was hosted by their children, Deborah R. of Ladson, S.C.; Thomas R. Jr. of Boardman; and Donald E. of Troy, Ill.
The couple also have three grandchildren, Tommy, Taylor and David of Columbiana.
Mr. Couche and the former Barbara Stone were married Aug. 3, 1963, at the old Four Mile Run Christian Church in Austintown.
Mrs. Couche retired in 2000. She had been assistant head nurse for the South Side Unit of the Youngstown Hospital Association in Youngstown and was a school nurse 25 years for Jackson-Milton Schools in North Jackson. She is a member of Ohio Retired Teachers Association, Mahoning Retired Teachers Association and AARP of Canfield.
Mr. Couche retired in 1998. He had worked at Youngstown Steel Door Co. and as a supervisor for the Ohio Turnpike Commission. He belongs to Argus Lodge of Canfield, Scottish Rite of Youngstown and the Youngstown Saxon Club. He served in the U.S. Coast Guard.
The Couches are 50-year members of Four Mile Run Christian Church.