Children honor Millers for their 70th anniversary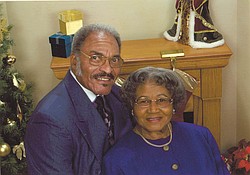 Photo
Mr. and Mrs. William Miller
YOUNGSTOWN
The children of William and Elizabeth Miller of Youngstown honored their parents by hosting a 70th wedding anniversary celebration July 6 at Willow Creek Banquet Hall in Girard.
The couple were married July 2, 1943, at Fort George Meade Chapel, in Maryland.
A few months later, Mr. Miller was deployed to the European Theater for three years, serving as a staff sergeant in the U.S. Army.
The Millers have three children, Debra Lennon of Detroit, Ronald Miller of Youngstown and Donna Pickard of Phoenix.
Mr. Miller worked as a carrier for the U.S. Postal Service before retiring in 1980.
His wife, the former Elizabeth Brown, retired as a librarian from the Youngstown City School System in 1990.
Bill and Betty, as they are known to friends, have five grandchildren and seven great-grandchildren.