Mystery peacock appears in Poland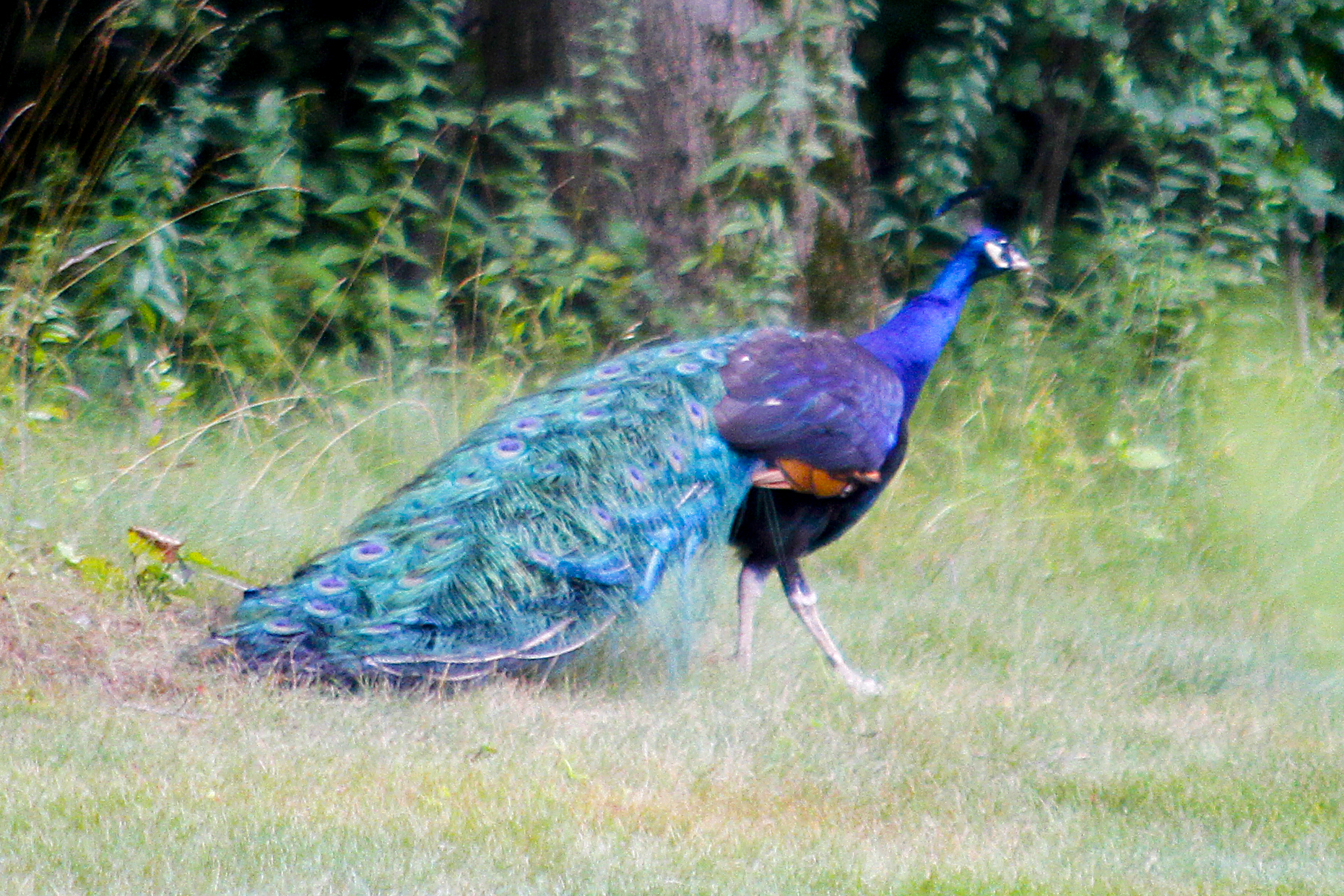 ---
Staff report
POLAND
A peacock has been wandering in and out of an extensive wooded area behind the James Place condominium and villa community off Clingan Road here.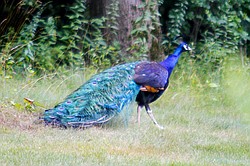 Photo
MADELYN P. HASTINGS | THE VINDICATOR This peacock has been wandering in and out of a wooded area behind James Place condos and villas in Poland Township since Thursday.
Diane Roberts, a villa resident, said she first observed the exotic bird about 4 p.m. Thursday and last saw it at dusk Friday.
She hopes the blue peacock stays in the area to enable its owner to be found and to recover the bird or to enable it to be rescued by an animal rescue organization.
She said she has been calling animal-welfare organizations in a futile search for any reports of a lost peacock.
"You're like my next hope," she told a Vindicator reporter. "I have no idea where it came from or why it would be here," she added.
She said she has seen the bird walking, but not flying, and that she has not heard it make any noises or noticed any identifying bands on its legs.
"It goes up and down. It just kind of walks the tree line," she said.
The peacock has been appearing in an area frequented by native wildlife, including deer, wild turkeys, foxes, skunks and raccoons. Deer could be seen emerging from the edge of the woods behind Roberts' villa at dusk on Friday.
The peacock has been eating loose corn Roberts has put out for the turkeys and deer, Roberts reported.
Peacocks are ground feeders that eat insects, plants and small creatures, and are native to tropical regions, according to the National Geographic Society.
The blue peacock resides in India and Sri Lanka, and a green variety lives in Java and Myanmar (Burma), while a Congo peacock inhabits African rainforests, according to the NGS website.
"It's beautiful, and it doesn't belong here. I was worried about it," Roberts said of her first reaction to seeing the exotic bird.
"It's someone's pet, or it escaped from a sanctuary," she speculated.
"I do want it to stay [in the vicinity] until it can be rescued," she said. "I don't want anything to happen to it," she concluded.