Playoffs or bust for YSU football team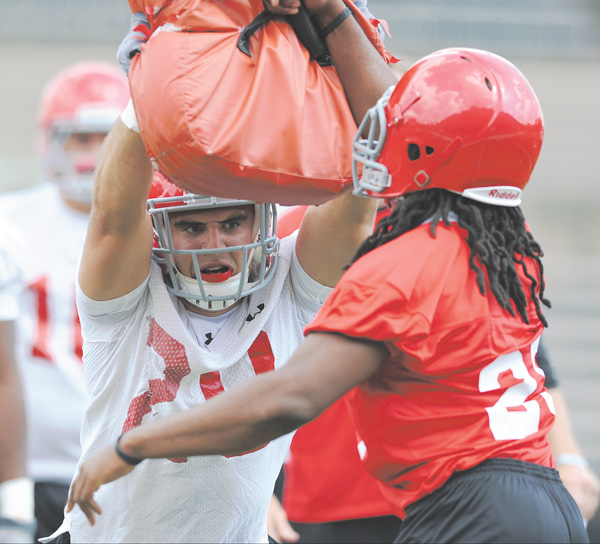 ---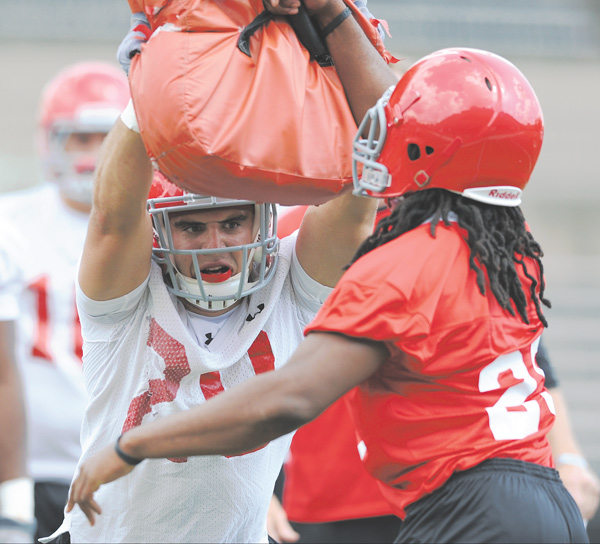 Photo
Youngstown State linebacker Dom Rich (20) hits a blocking bag being held by Ian Banks-Tillman (29) during the Penguins' first preseason practice Thursday at Stambaugh Stadium.
By Joe Scalzo
YOUNGSTOWN
On the morn- ing of his fifth — and final — Youngstown State training camp, quarterback Kurt Hess decided to wake up early, run up and down the dorm hallways and yell at his teammates.
It was 6:30 a.m.
"Guys were like, 'What the heck is this guy doing?'" Hess said. "I was excited."
Thanks to back-to-back winning — but disappointing — seasons, the Penguins enter this fall with more excitement inside the program than outside. The Penguins were picked to finish fifth in the 10-team Missouri Valley, but fourth-year coach Eric Wolford believes he has more talent and depth than at any point in his tenure.
More importantly, he believes he has more leadership and team unity.
"We're a much more cohesive group," Wolford said. "Last year, we still had some selfishness. Some guys were maybe too worried about themselves as opposed to the big picture and the team.
"We don't talk about the past a lot, but the last two years were very disappointing for our football team. We were a good enough team to be in postseason play and even though both years were completely different as far as the situation in the way it happened, the point in both of those years was when you start losing a couple games, you're leaving it up to a [playoff] committee."
Youngstown State started last season 4-0, with wins over Pitt and perennial conference power UNI, only to tumble out of the playoff race with an 0-for-October. The Penguins finished 7-4, missing the playoffs by one game.
"I think we didn't have everybody all in," said senior linebacker Dom Rich. "Not everybody bought into the system and we got high on ourselves. We started looking into the playoffs before we played those teams that beat us.
"I can assure you that's not going to happen this year. We learned our lesson and we're coming ready to work. We're taking it one game at a time this year."
YSU, which held its first practice Thursday, opens with four non-conference games beginning Aug. 29. The first two are at home against non-scholarship FCS schools (Dayton and Morehead State). The Penguins then play at Michigan State before returning home to play Duquesne, a partial-scholarship FCS school.
They finish with eight straight conference games.
"We need to understand how important every game is," Hess said. "I think it's really easy to get up for big games like Pitt, UNI, North Dakota State and Michigan State, but we need to realize they're down the road. Michigan State is Week 3, not Week 1. Dayton is Week 1.
"Last year we started 4-0 and we started worrying about what lies ahead and got sidetracked and we were not prepared for that next week."
To a man, the Penguins said they have a playoffs-or-bust mentality this season. And with the FCS playoffs expanding from 20 to 24 teams (including three more at-large bids) and longtime powers such as Appalachian State and Georgia Southern ineligible (since they're moving up to the FBS), this could be the year YSU snaps its six-year postseason drought.
"That's the standard here at Youngstown State — playoffs and championships," said junior receiver Jelani Berassa. "That's what it's going to continue to be."