Net gain: Avalon team in USTA tournament
---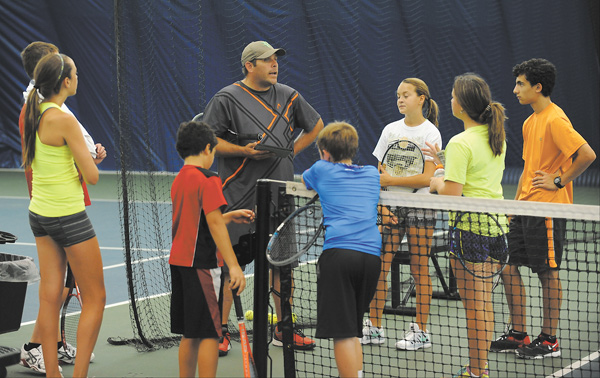 Photo
Brian Fry, director of tennis at Avalon Golf & Country Club, speaks with tennis players including Garret Kuchmaner, Colin Gramley, Kaytlin Marlatt, Devin Gramley, Jason Khavari, Isabella Elisco, Michael Awadalla.
By Ryan Buck
Vienna
The Avalon Golf and Country Club is sending its advanced youth team to the United States Tennis Association's Midwest Championships this weekend in Indianapolis.
Most of them are too young to have studied the subject, but their year-round slug-fests on the outdoor clay courts and inside the impressive tennis dome at their Squaw Creek facility have built a palpable chemistry.
The four boys and four girls, all between the ages of 11 and 14, will be competing against the top programs from Illinois, Indiana, Michigan, Wisconsin and Ohio beginning today in the tournament's advanced division.
It is the first time in 20 years that a local team has advanced this far in USTA tournament play.
Avalon director of tennis Brian Fry, in his fifth year coaching the team, has built a diverse lineup that thrives on the concept of teamwork despite their size, gender and — particularly — age differences.
Michael Awadalla, 12, is one of Fry's pupils headed to Indianapolis. He may stand a foot shorter than 14 year-old teammate Garret Kuchmaner, but he won't back down from a match.
"When you talk to these kids, you get the sense of the fact that they are all together," said Fry, an Oil City, Pa., native who captained the YSU tennis team in 1991. "Some of them have been together for three years, which really makes a huge difference tennis-wise, and socially, too."
Fry has built his program on intense competition at practices and encouraging his players to match up with older teammates and opponents from other clubs. They have consistently produced players garnering regional and state rankings.
His grand experiment will reveal itself against the best competition in the country in singles, doubles and even mixed doubles events.
"Some of them, this will be the biggest stage they've ever played on," Fry said. "A couple of them have played in some really big individual tournaments and won some big titles and that's what we do. We try to introduce them each time they have success at one level, we immediately take them to the next level."
His intense practices create a fun environment his kids crave in each of their precocious tennis pursuits.
"It's a lot of battling between the players," said Kaytlin Marlatt, 12, of Warren. "It's very energized. We work harder. Other teams don't have the intense practices, plus we have better players to hit around with."
Avalon's youth program has grown to 146 participants since Fry took over. Two consecutive undefeated seasons and titles in the Youngstown Tennis League inspired him to think big.
"It's fun for them because their friends are here," he said. "I think tennis offers some things that a lot of other sports don't offer in terms of being able to have individual success. The bottom line is success keeps track of success. Once the word started getting out about what we were doing, we started winning."
They compete against clubs from Akron, Canton and Cleveland. Their trip to Indianapolis comes on the strength of finishing in the top two spots in the Northeast Ohio Summer League.
Isabella Elisco, Claire Casalnova, Jason Khavari, and brother-sister combination Colin and Devin Gramley comprise the rest of the team.