Kari Haywood, Richard Lape set a wedding date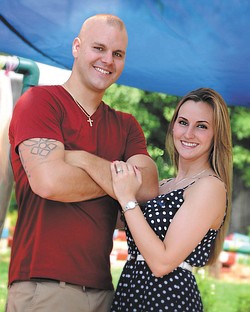 Photo
Richard T. Lape and Kari N. Haywood
HUBBARD
Richard T. Lape and Kari N. Haywood, both of Hubbard, are announcing their engagement.
James E. Haywood Sr. of Greenford and Mr. and Mrs. Donn E. Guyton of Brookfield are the parents of the bride-elect. The parents of the future groom are Mr. and Mrs. Robert J. Lape of Boardman.
St. Luke Church in Boardman will be the setting of the 1:30 p.m. Aug. 17 ceremony.
An evening reception will take place at the Davis Center in Fellows Riverside Gardens at Mill Creek Park. Invitations will be issued for both.
Miss Haywood earned a degree in the physical therapist assistant program at Penn State Shenango and in health science professions from Cleveland State University. She is a physical therapist assistant for Ohio's Choice Home Care & Hospice in Warren.
Mr. Lape attended Youngstown State University, where he studied communications. He is an active-duty member of the security forces of the U.S. Air Force in Vienna.